Is 'Wish I Was Here' Worth Seeing Just for the Turk and JD Reunion?
Zach Braff's Wish I Was Here has been rife with controversy ever since it was announced. After a troubled Kickstarter campaign that marred the project before it even started filming, Braff's latest has been receiving a lashing from critics (the film currently holds a meager 36% on Rotten Tomatoes), with film writers throwing out words like "phony" and "self-indulgent" to describe the movie. If you're not up for a Garden State reprise, complete with sounds of crooning indie rockers, purple wigs, and random space adventures, Wish I Was Here might be a bitter pill to swallow. Well, except for one little thing…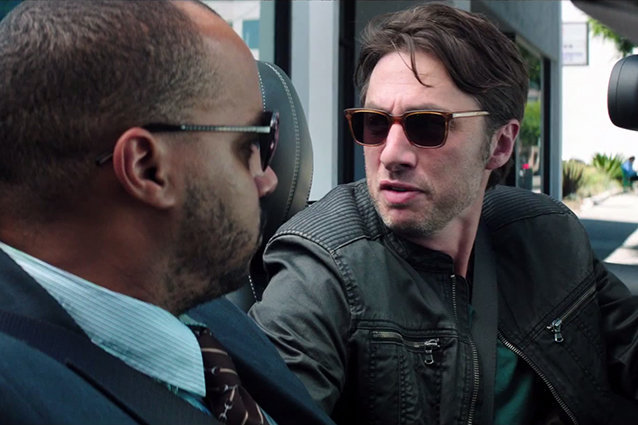 YouTube/Focus Features
JD and Turk are back together. Donald Faison, Braff's real life bestie and former Sacred Heart colleague, pops into the trailer as a charming Aston Martin salesman who takes Braff's family out for a L.A. joy ride. The two actors memorably played best friends on the NBC sitcom Scrubs, which perfectly captured the intricacies of "guy love between two guys," as the song goes. Even in the tiny scene from the trailer, it's all right there: the knowing looks, the banter, all of the electric chemistry from Scrubs is back in full force. But is it worth paying full ticket price for what probably amounts to only a short reprise of the JD and Turk bromance, or would you be better off giving your old Scrubs DVDs another spin in your home theater?