Wolfgang Petersen and Scott Stuber Team For 'Old Man's War'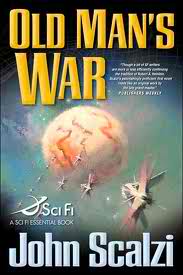 Mr. Epic Battle himself is taking another another movie that will probably have some more epic battles.
Wolfgang Peterson — director of Troy, Air Force One and numerous other action movies — has grabbed the director role for Old Man's War, a soon-to-be adapted film written by David Self based on the book by John Scalzi. Scott Stuber will produce through Stuber Pictures.
The story focuses on a 75-year-old man who trades his body for a younger, genetically enhanced version so he'll have both the experience of an old dude and the strength of a youth. He joins an outer space military coalition that must protect human colonies. He's injured in battle, and the special-forces officer who rescues him seems to be a younger version of his wife. Even though he's not completely sure, he convinces himself that she's truly his wife and ends up risking it all in order to be with her.
So basically, this all sounds pretty nerdy, but we're going to watch it and, we'll probably like it.
Source: Deadline