Only 3 Women Are Directing Blockbuster Movies in 2013, and That's a Problem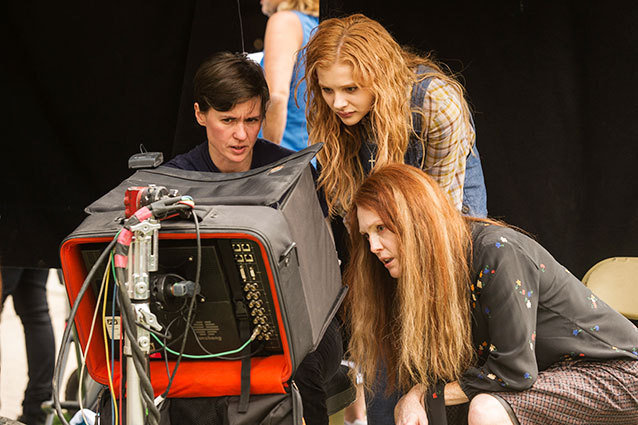 Kimberly Peirce, Chloë Moretz, and Julianne Moore on the set of Carrie
After losing out on a 2013 Oscar nomination in the Best Director category, Ben Affleck and his film Argo became the season's biggest talking point. After losing out on a 2013 Oscar nomination in the Best Director category, Kathryn Bigelow and her film Zero Dark Thirty faded out of the picture.
Already battling wishy-washy political arguments that threatened to shift the spotlight away from the film, Bigelow's docudrama thriller was all but knocked out of Oscar consideration when the critically acclaimed director failed to sit alongside 2012's contenders. The snub was a reminder of a sad fact that remains a talking point each year: In the 85-year history of the Academy Awards, only four women have been nominated for the "Best Director" Oscar. And only of them won: Bigelow, for 2009's The Hurt Locker.
There's an imbalance of female and male directors represented in the Hollywood mainstream. It's a point argued year after year, yet it's a statistic that never seems to change. According to a study by Dr. Martha M. Lauzen, Executive Director, Center for the Study of Women in Television and Film, School of Theatre, Television and Film, 18 percent of all directors, executive producers, producers, writers, cinematographers, and editors working on the top 250 domestic grossing films of 2012 were women. And only 9 percent of all directors working on those films were women. While that's a 4 percent bump up from 2011, the percentage of women directors working in 2012 was the same as in 1998.
In 2013, three women are slated to direct studio-driven, wide-released feature films: Tyler Perry Presents Peeples (May 10), directed by Tina Gordon Chism, Carrie (Oct. 18), directed by Kimberly Peirce, and Disney's animated feature Frozen (Nov. 27), co-directed by Jennifer Lee alongside Chris Buck. A few more will sprout from between the blockbusters into limited releases: Sally Potter's Ginger & Rosa (March 15), Sofia Copolla's Bling Ring (June 14), Mira Nair's The Reluctant Fundamentalist (April 26), Maggie Carey's The To Do List (Aug. 16), Kelly Reichardt's Night Moves (Sept. 20), Susanne Bier's Serena (Sept. 27), Diablo Cody's Paradise, and the Soska sisters' American Mary. Women are making movies, but considering the sheer number of films in theaters from year to year, they're not making enough movies — and they're rarely making them with the support of Hollywood.
RELATED: Kathryn Bigelow: Oscars' 'Best Directors' Didn't Need to Be a Boy's Club
Chism, screenwriter of 2002's Drumline and 2006's ATL, makes her directorial debut this spring with Peeples, but breaking through as a female force in Hollywood required hard bargaining. "I've always been attracted to writer/directors and Nancy Meyers was a huge inspiration for me in her work," Chism says.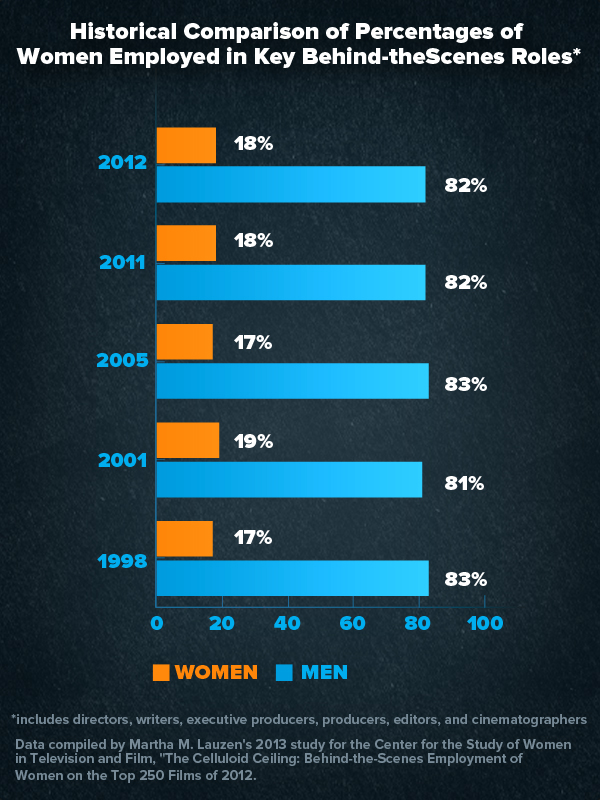 "So, as a writer, I've used my script as leverage to get in the room to plead my case to direct it. If I didn't have that script, I don't think I would have been given the opportunity."
With Peeples — which stars Craig Robinson and Kerry Washington — ready for release, Chism already has a follow-up in place, a thriller set up at Sony. Despite having a feature under her belt, Chism says the process was the same: more teeth-pulling, more clinging to her script, more proving herself capable.
The writer/director recalls her first studio meeting, during which Fox gave her a number of different script ideas, none of which worked for the budding filmmaker. "We talked about all kinds of ideas and I hated all of the things they pitched me," Chism says. "I thought, 'This is a nightmare.' In that meeting, they told me they were toying around with a movie about a band. At the time, it was about a white kid and a black kid who can't read. And I come from the South and my mind went to historically black colleges. Thank God. And I remember, they were like, 'There are all-black colleges?'"
"I'm not sure if I'll have to do that forever," Chism says. "I think it has to do with power, basically, and in this industry, the writer doesn't hold the largest bit of power. So it's more palatable for people to deal with women as writers." Hollywood does appear to be more receptive to hiring females in that role; Lauzen's study reveals that women account for 15 percent of the writers working on the top 250 films of 2012.
Like Chism, Jennifer Lee also comes from a writing background. Before being recruited by Disney Animation head honcho John Lasseter to co-direct Frozen, Lee had sold two screenplays: an adaptation of John Steinbeck's The Acts of King Arthur and His Noble Knights and an original script being developed at Leonardo DiCaprio's Appian Way production company. She was brought into the Disney fold by her Phil Johnston, a friend from Columbia University's film school who recruited her to write on Wreck-It Ralph. After meeting weekly for years in order to "push each other as writers," Johnston asked Lee if she would be willing to move to Los Angeles on a week's notice to take over Wreck-It's script, which he had initially developed years before. The success of the 2012 Oscar nominee — and the nurturing environment of a long-gestating animated film — landed her the job co-directing Frozen.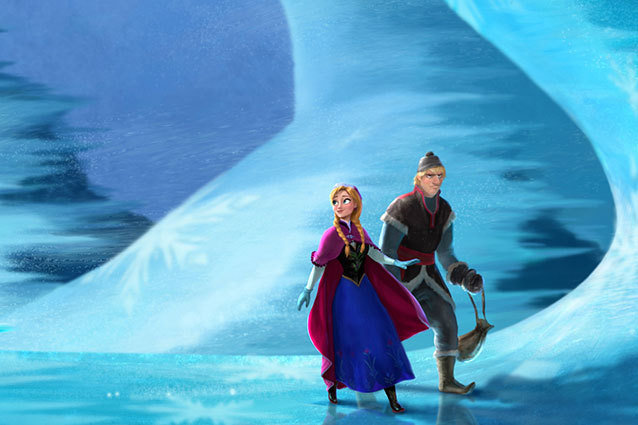 Concept art from Jennifer Lee's Frozen
RELATED: Why 2012 Was Not 'The Year of he Woman'
Unlike live-action's homogeneous roster of filmmakers, animation has traditionally welcomed female directors. In 2012, Brenda Chapman became the first woman to receive an Oscar for Best Animated Feature for Brave (sharing it with Mark Andrews, who took over as director halfway through production). Vicky Jenson (Shark Tale) nearly took home the award in 2001 for co-directing Shrek — in the category's first year, only the producers were awarded with the gold statue. In the grand scheme of Hollywood, Jennifer Yuh Nelson possessed the most important honor: Her Dreamworks Animation film, Kung Fu Panda 2, is the highest-grossing female-helmed movie of all time, with a whopping worldwide gross of $665.7 million.
In terms of creativity, box office numbers are inconsequential. But in Hollywood, they're a calling card and a record-setting number like Nelson's Kung Fu Panda 2 gross goes a long way. Which explains why women filmmakers are climbing uphill to get projects with larger budgets off the ground. Running down the list of the highest-grossing directors of all time (based on BoxOfficeMojo.com's director filmography totals), we don't find a woman until No. 60: Lana Wachowski, director of The Matrix trilogy, who first entered the industry as a man. Further down at No. 81 is Betty Thomas, one of the few women to have shaped a career out of directing modest blockbusters. Including The Brady Bunch Movie, Doctor Dolittle, 28 Days, and the recent Alvin and the Chipmunks: The Squeakquel, Thomas' films have collected nearly $563.3 million.
NEXT: Moviegoing Demographic Myths and Why Female-Driven Blockbusters Work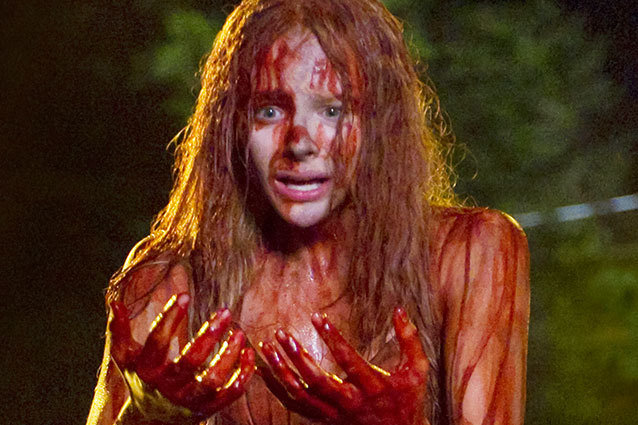 Chloë Moretz in Carrie

For women to stake a claim in box office history, they must be given the opportunity to direct blockbusters, the type of genre filmmaking narrowly aimed at adolescent boys. A 2011 study released by the Motion Picture Association of America cites that the gender composition of moviegoers was balanced, about 51 percent women, 49 percent men, with the 25 – 39 age demographic representing the largest portion of the audience, around 28 percent. Yet most of the major studio tentpoles are male-driven. Out of 45 movies based on comic books released between 2003 and 2013, only one of them was directed by a woman: Lexi Alexander's 2008 film Punisher: War Zone.

The lack of women represented in genre movies makes Kimberly Peirce's horror remake Carrie an event in itself. Like many female directors actively working in the film industry, Peirce is hesitant to make gender divide a talking point when discussing her new adaptation of the Stephen King classic. The Boys Don't Cry and Stop-Loss director wants to be seen as simply that — a director. Still, she believes women do add perspective to genre stories, and in the case of Carrie, perspectives that echo themes laid down by the book's author.

"What I love about King was, he was writing about a fear of the period," Peirce says. The director recalls King's notorious experience of working as a janitor and discovering a bloody tampon, a terrifying event that Peirce revels in. "Women may have fear about their tampons and their menstrual cycles, but you know what? They've got to deal with it on a monthly basis. It's a fear that you know in a way that this guy may not know. So it took on epic proportions. So it is really interesting that it was a man's fear that birthed [the story], and then I get to [view it] through a different tunnel."

Peirce acknowledges that Brian De Palma, director of the acclaimed 1976 version of Carrie, knows "a lot about women." Peirce also finds her approach to the material unique, because it's informed from personal experiences. "The truth is, I have a mother and I have had wars with my mother [and] I know what those wars feel like," Peirce says. "I know what those feel like from my perspective, the claustrophobia in the female-female, mother-daughter relationship. I also know how snarky the girls can be. It doesn't mean the men can't be. Female terror is a very interesting terror. It's relentless, it's diffuse, it communicates."

RELATED: 'Carrie' Carries the Torch Of the '76 Original As Carrie Torches City

For her follow-up to Peeples, Chism made a point to pen a thriller with a strong female voice, and it's a challenge for her. According to the writer/director, Drumline, ATL, and Peeples all tested higher with men, and she sees that as the result of an ability to write strong male characters. With her next movie, she wants to challenge the pre-conceived notions of what a movie with strong female characters has to be about. "I think that the similarities that a lot of minorities have to face — whether it's a woman in business or African-American — sometimes the reaction is, 'I don't want to make it about me being a woman,'" Chism says. "But I've yet to find the formula to walking into a room and an executive not seeing both things when they see me."

Over the course of her career, she's well-aware of what an executive is looking for from her. "I [can] feel the expectations that, 'Oh, you're going to do a chick flick and that's going to diminish the numbers we do.' I'd say that's 100 percent the case."

Producer Gale Anne Hurd is one of the rarities, a female producer who, while never stepping into the director's chair, has helped both men and women bring sci-fi blockbusters, independent dramas, and hit TV shows to life. In 2013, Hurd launched another season of her hit horror show The Walking Dead and debuted the teen romance drama Very Good Girls at the Sundance Film Festival. And yet, even she doesn't see much of a home for women at the movie studios. "I think it speaks to the fact that independent film is where it's at, because there were more films than ever at Sundance directed by women," Hurd says. "And mainstream film has really taken a step backward in so many ways and one significant factor is that you don't find much diversity in the ranks of directors. Now that's changing a lot in television and I think some of the best work right now is on television. The strides that women are making as directors on television is more than compensating for the steps back in the ranks of major studio directors."

The latest from Jane Campion — another of the female quartet to have been nominated for the Best Director Oscar — is a prime example of Hurd's observation. Sundance Channel's upcoming series Top of the Lake, a deeply cinematic crime procedural, was written and directed by Campion. The series premiered in full at this year's Sundance — the first TV series to do so at the festival. Along with Campion's ambitious project, the festival also played host to a number of female-directed indies, including Lynn Shelton's Touchy Feely, Lake Bell's In a World…, Jerusha Hess' Austenland, and Stacie Passon's Concussion. Thanks to a frenzy of distribution company purchasing, most are expected to arrive in theaters this year.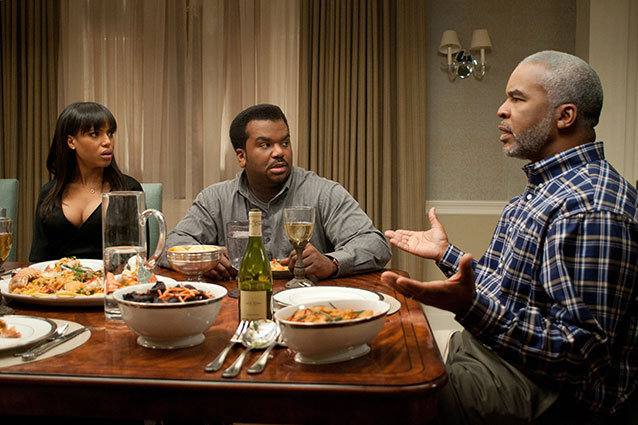 Kerry Washington, Craig Robinson, and David Alan Grier in Tina Gordon Chism's Tyler Perry Presents Peeples

In the male-dominated world of directing, those with clout are the ones who can bring along sea change. The female voices are there, they just need to be cultivated and supported. Lee has not been working with Disney for long, but the animation process naturally helped her rise to the top. It promoted her organically. "Animation relies on a large team of people — story artists, visual development artists, animators, and a diverse production staff," Lee says. "And we don't just work together on one film and move on; I'm working with a lot of the same folks I worked with on Ralph. Working together for years, we really get to know each others' strengths and talents. The women get the chance to shine equally."

Chism's film recently swapped titles, shifting from We the Peeples to Tyler Perry Presents Peeples. After persisting to hold onto her romantic comedy and direct it herself, she was okay with the change. "They got the movie, they got the script. Leverage diminished."

Adding Perry to the marquee also works in her favor: With a built-in audience, a stamp of approval from the Madea mastermind is the cinematic version of "Oprah's Book Club." He also worked as Chsim's biggest supporter. "Tyler was very supportive," she says. "He just let me do my thing. He read it, he had his ideas, and then he said, 'You know what, I'm just going to let you go for it and I want to see what your voice would be, your take would be.' When he needed to block for me or support me, he did that. I have nothing but appreciation for him as a producer."

RELATED: Diablo Cody Updates On 'Sweet Valley High' Musical

Diablo Cody, who wrote the upcoming Evil Dead remake and is expected to have her own directorial debut, Paradise, arrive sometime this year, shares the frustration over the gender divide. She sums up her feelings with comment that may sound defeatist, but it's honest and steadfast: "It's been that way for a long time, so I'm just doing what I can."

Lee feels similarly, letting her work on Frozen and her collaboration with co-director Buck speak for itself. "We share a sense of storytelling that doesn't feel male or female. I think we were cast together because of our shared vision for Frozen, and because we work well together."

On the first day of shooting Peeples, Perry phoned Chism with words of wisdom. "He called and said, 'Put your head down and make a great movie. That's all anyone cares about. No one cares about anything else other than delivering a great movie. Have a great one, bye.'" From childhood, Chism was taught that "excellence in work is really the only barrier-breaking formula." The mantra pushed her each day on Peeples, even when the scenes were at their silliest. "At the end of the day, for me, whether I'm a female or male, there's a lot of investment, a lot on the line, and you have to make your day, make it good, and make a great film."

This year will see the release of three studio films directed by women — a minuscule number. Diversity doesn't have to be forced into the industry — hiring talented directors should always be the priority — but capable and creative female filmmakers are out there, waiting to be employed. They can take on any project, not just ones that boast demographics skewing towards their own gender. "I think a good director can do anything," Peirce says. "James Cameron was not an Avatar. Coppola was not a Godfather. You're always looking to any character and figuring out where you want to take it."

Cody gives us a little hope for the future (or at least, this year): "Let's look at the positives, which is that the worst movies are dumped in the first quarter of the year. So maybe it means the women directed all the good ones."

Follow Matt Patches on Twitter @misterpatches

Additional reporting by Michael Arbeiter and Kelsea Stahler

[Photo Credit: Screen Gems, Hollywood.com, Walt Disney Pictures, Screen Gems, Nicole Rivelli/Lionsgate]