WonderCon 2013: Guillermo del Toro Reveals 15 New Facts About 'Pacific Rim'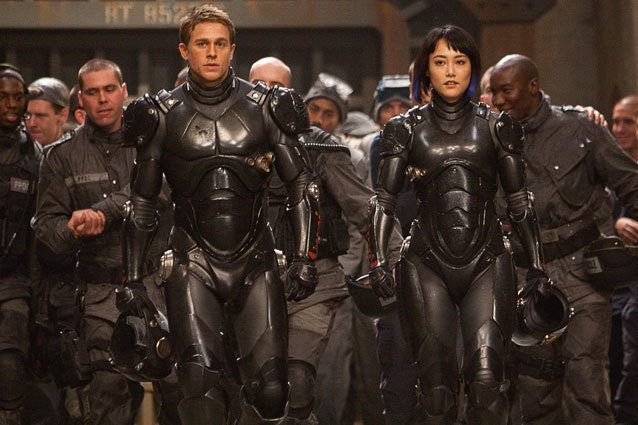 Legendary Director Guillermo del Toro welcomed delighted WonderCon fans on Saturday with the debut of an exclusive look at his new summer blockbuster Pacific Rim.
The jam-packed trailer featured a more in-depth look at the Kaiju — the monstrous aliens who emerge from the depths of the seas to destroy earth — as well as more screen time to feature how the Jaeger robots are conrolled via memories. The new teaser also showcased one epic and never-before-seen battle in which a Jaeger opted to use a freighter ship as a bat to smash one Kaiju's face as hard as possible. In a word, it was incredible.
Del Toro also unveiled an extensive amount of detail surrounding the mythology of this futuristic apocalypse as well as numerous behind-the-scenes secrets. Hollywood.com was in the crowd and eagerly taking note to bring you 15 new things you didn't know about Pacific Rim. Read on for all the action-packed fun-facts below:
RELATED: Even More Monsters Vs. Robots: 'Pacific Rim 2' Already In The Works
1. Del Toro's goals for Pacific Rim were to convey a sense of "awe and scale" for audiences considering "25-story high mother f**kers were kicking the s**t out of each other" for two and a half hours.
2. Although a large part of the film will be created with CGI, Warner Bros secured the largest set in North America for Del Toro to physically create a a four-story tall Jaeger head that would respond physically to a Kaiju battle, one foot of a Jaeger that Del Toro compared to the size of the convention center as well as multiple city streets. "We built several blocks of Hong Kong to destroy — and then we destroyed them," the director smiled.
3. Del Toro also created a hydraulic-powered set that would react as realistically as possible. "Every time the monster would hit, the whole set would rock from one side to the other, front and back which made the actors very very happy," he said.
4. The director chose to use the actors as much as possible, especially when controlling the movements of the Jaegers. Del Toro revealed, "We insisted on doing it with the real actors and not the stunt actors and with them in the physical machine that control the robot. They basically had an incredible apparatus attached to them behind."
5. At the end of the day the actors were "exhausted" and "destroyed physically" from working the controls of the Jaegers — but the only one who never complained was Rinko Kikuchi. Del Toro laughed, "That's why guys will never give birth, we are crybabies and we would be extinct as a species." Kikuchi told Del Toro that she would think of "gummy bears and flowers" when she would start to get tired.
RELATED: 'Pacific Rim': Giant Monsters Leave Their Mark On Earth
6. Del Toro was very inspired by the visuals of World War II and he chose to use a lot of decay, oxidation, and rust in as many elements as possible throughout the sets.
7. Ron Pearlman's character Hannibal Chau — named after Del Toro's favorite historical figure and his second-favorite Chinese restaurant in Brooklyn — is a black market dealing in Kaihu organs. Del Toro explains, "He's basically a rascal, he's a really really important little guy and he's a black market dealer of the lowest kind."
8. Del Toro was a guest star on It's Always Sunny In Philidelphia and that's where he witnessed Charlie Day give a particularly long-winded yet hilarious monologue about rats. The director realized that Day was an incredibly gifted actor and cast him as Dr. Newton Geizer. "I wanted to have a scientist who was like a punk rock guy who has sleeve tattoos and Buddy Holly eye glasses and he thinks he's super hip — but he's really a geek, a super hip geek," he said.
9. The director jokes that throughout the film Day resembles a number of different actors. "From the beginning of the movie he looked like Rick Moranis, to J.J. Abrams and the shorter little brother of Bradley Cooper." Not a bad bunch to be compared to! 
10. Every Jaeger robot is driven by two pilots — or jockeys — one to control the left hemisphere and the other to control the right. If one pilot were to try to operate the machine alone the neuron overwhelm would fry their nervous system and kill them instantly.
11. Every country's jaeger is controlled by two jockeys, with the exception of the Chinese jaeger, Crimson Typhoon, which is controlled by a set of triplets.
RELATED: 'Pacific Rim': Is It More Than Just Robots Fighting Aliens?
12. The two jockeys operating the same jaeger are linked through memories. Del Toro explains, "If they're good at fighting both in the same style then they are linked by a neuron bridge that fuses them with the robots."
13. Del Toro and the creative team originally designed 12 Kaijus and nine Jaegers and then used an "American Idol" type of elimination process to narrow their choices. As the designs improved they "polished" the jaegers to make them reflect the styles and cultures of the various countries.
14. The Kaiju were sent to terrorize the citizens of earth through a multi-dimensional portal in the depth of the Pacific Ocean. The director noted that the creatures were sent by an alien race who has a habit of "consuming planets."
15. Del Toro ended the panel revealing that he has seen Pacific Rim many times and it never ceases to make him smile. "[This was] the most amazing experience I've ever had making a movie. Pacific Rim has been the most harmonious and free experience I've ever had making a movie," he said.
Fans can catch Pacific Rim when it opens in theaters Friday, July 11.
Follow Leanne on Twitter @LeanneAguilera
[Photo Credit: Warner Bros]
---
You Might Also Like:


15 Oscar-Winning Nude Scenes


10 Insane 'Star Wars' Moments You Didn't Notice