'Wreck-It Ralph' Star John C. Reilly: Why Space Invaders' Arrival 'Was Like a UFO Landing'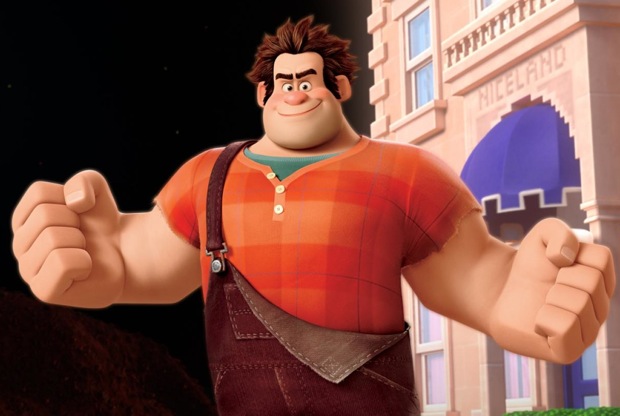 What happens when the world of old-school arcade rats collide with modern gamers? It's a trip down Memory Lane in the new Disney movie Wreck-It Ralph – which pays homage to video games such as Rampage, Donkey Kong, Mario Kart, and Call of Duty and even features appearances of characters from the classics including Pac-Man, Sonic the Hedgehog, Street Fighter, and Super Mario Bros.
When Ralph (John C. Reilly) – the husky villain of the fictional game Fix-It Felix Jr. – realizes he's tired of playing the bad-guy role, he travels to another arcade game to fulfill his dream of becoming a hero. Along his quest he befriends the adorable pint size Vanellope von Schweetz (Sarah Silverman) while putting their arcade community in peril – which forces Fix-It-Felix (Jack McBryer) and Sergeant Calhoun (Jane Lynch) along for the bumpy ride.
Hollywood.com recently sat down with the family-friendly movie's stars – John C. Reilly, Jack McBrayer, and Jane Lynch – to discuss their own dreaded jobs, favorite video games (both old and new) and introducing the Golden Age of gaming to the new generation. Ralph was an 8-bit… what is that? It's called pure retro glory, kids.
"The first big game to me as a kid was Space Invaders," Reilly recalls of his first childhood gaming experience. "That was literally like, a UFO landing in your neighborhood. To go from pinball and skee-ball to Space Invaders was pretty insane."
The nostalgic arcade-hopping adventure Wreck-It Ralph arrives Friday, Nov. 2. Check out our interviews below:
[Photo Credit: Walt Disney Pictures]
More:
'Wreck-It Ralph': Director Rich Moore on Casting Comedians and Video Game Favorites
'Wreck-It Ralph': What Happens When The Arcade Shuts Down For The Night – TRAILER
Wreck-It Ralph' Promos Go Vintage
From Our Partners:

Exclusive New 'Twilight: Breaking Dawn' Trailer!
(Moviefone)

(Moviefone)