YA Adaptation 'The Mortal Instruments: City Of Bones' Arrives on Heels of 'Twilight' — TRAILER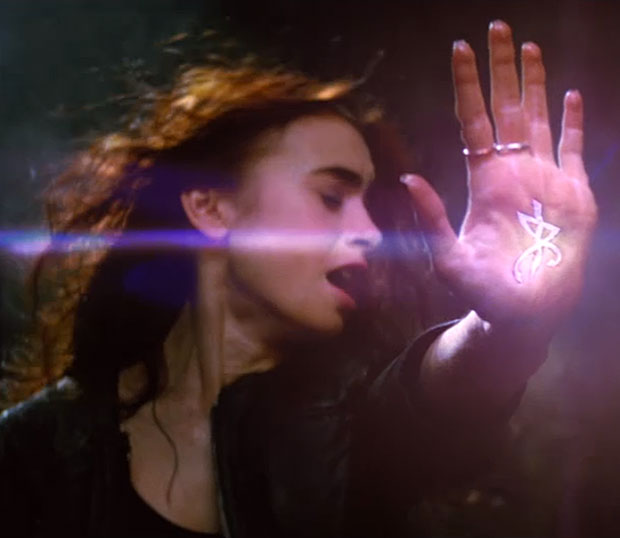 As one adaptation of wildly popular young adult series comes to a close, a new one begins.
Just hours before the final installment of The Twilight Saga, Breaking Dawn — Part 2 , arrives in theaters, the trailer for the next teen phenomenon finally hit the Internet. Still don't call The Mortal Instruments: City of Bones, the first chapter in Cassandra Clare's bestselling fantasy series, just another Twilight. Yes, some of the elements are the same (a supernatural love story, mythical creatures, Jamie Campbell Bower is there) but based on the thrilling trailer alone, it looks like the The Mortal Instruments: City of Bones could appeal to both the Twilight crowd yearning for something familiar and beyond.
RELATED: A First Look At The Mortal Instruments: City of Bones 
The story follows Clary Fray (played by Lily Collins, who is a few years older and a few hair shades darker than the heroine in the book) a seemingly normal Brooklyn teen whose world is turned upside down. (In the YA world, Clary tends to lean more towards Katniss Everdeen territory than Bella Swan, despite the appearance of vampires and werewolves.)
When Clary meets a demon hunter named Jace (Collins' real-life beau Bower) she is thrust into the mysterious underground world of the Shadowhunters after her mother (played by Game of Thrones' Lena Heady, not seen in the preview), who has ties to them, disappears. Along the way on Clary's journey is her best friend Simon (James Franco lookalike Robert Sheehan), the Shadowhunter mentor Hodge (Mad Men's Jared Harris, serving as the clip's narrator), and the rogue Shadowhunter villain Valentine (Jonathan Rhys Meyers). With most of the main players are on hand in the trailer, fans already deeply immersed in the should be overwhelmingly relieved that the gothic tone of the book has been kept in tact. Others may just be intrigued by the Matrix-esque rave going on.
Watch the first trailer for The Mortal Instruments: City of Bones here: 
Thoughts, fellow Clave dwellers? Does Lily Collins make a good Clary? Were you hoping for more Valentine? Share your thoughts!
The Mortal Instruments: City of Bones  arrives in theaters on August 23, 2013. 
[Photo credit: Sony Pictures]