Yo 'Mama' Trailer Is So Scary, It Even Made the Ghosts Hide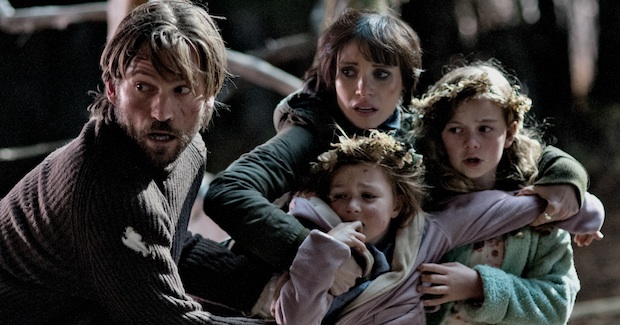 Guillermo Del Toro is exactly what the horror world needs.
Breaking into the world of filmmaking in the early '90s with a mix of Mexican and Hollywood horror movies (Cronos, Mimic, The Devil's Backbone), Del Toro has become a coveted director for all things weird and fantastical. He was originally set to helm The Hobbit, but when the films were on the verge of collapsing (which, thankfully, they didn't), Del Toro took on the 2013 robots-versus-monsters battle movie Pacific Rim. No matter how wild the concept, the director's imagination never seems to run dry.
In fact, it's overflowing. While developing his own projects, Del Toro has taken the role of producer to help bring to life a slew of original horror movies with budding first-time directors at the helm. His latest, Mama, was inspired by a short film by Andres Muschietti, who Del Toro recruited to direct the feature version — and based on the first trailer, it looks creepier than any of the countless remakes the genre has been flooded with in the past few years.
The film stars Jessica Chastain and Nikolaj Coster-Waldau (Game of Thrones) as the parents of two adopted, possibly feral little girls. After being discovered in an abandoned cabin, on their own in the wilderness for nearly five years, the girls are taken in and handed over to Chastain and Coster-Waldau's characters. They aren't normal: running around like psychos, eating each other's hair, and talking to the walls, calling for "Mama." Who or what is "Mama?" That's where things get scary and the gravitas of Del Toro really starts to be noticeable.
Check out the spot below. Mama is currently slated for January 18, 2013.
Follow Matt Patches on Twitter @misterpatches
[Photo Credit: Universal Pictures]
More:
How 'Possession' Producer Sam Raimi Continues to Be a Master of Horror
Pixar Goes Horror? Studio Announces Scary New Film