Young Adult Novels Are Taking Over Theaters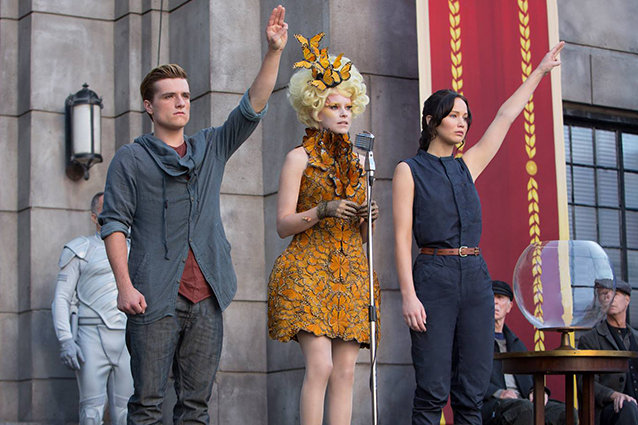 Lionsgate
The cinematic domination of young adult novels started with one boy wizard. Once upon a time in a Hogwarts far, far away, most young adult novels never made the jump to the small screen. The smash success of properties like Harry Potter and The Hunger Games changed all that. Now a popular young adult franchise can pretty much be guaranteed to get the star treatment.
Katniss Everdeen won't be the only young adult heroine lighting up the small screen. There are dozens upon dozens of young adult movie adaptations coming down the pipe. Some will be smash hits like The Hunger Games and Twilight. Others will arrive as duds, like this summer's Mortal Instruments adaptation.
Let's take a quick peek at four young adult movie adaptations coming soon to a theater near you. How many of these youth-centered properties actually take off might just determine whether the young adult novel-as-movie phase continues or fizzles.
Divergent
This successful book series will soon star Shailene Woodley as the heroine in a dystopian world where your defining trait really matters. The movie is looking to be the next Hunger Games and the buzz is through the roof, with a huge turnout for the film at San Diego Comic Con. This movie looks like it might become a new franchise builder.
The Giver
At this point in the young adult novel revolution, producers are looking way back in order to find books to adapt. Enter The Giver, that book many of us had to read in middle or high school. The movie is set to start filming soon and will feature huge star power from Jeff Bridges and Meryl Streep.
The Maze Runner
Young adult novels seriously love dystopian tales, so it's unsurprising another bleak future is in store for us at the box office. In this film, boys are dropped into an impossible maze and forced to escape with only their wits. The movie version will feature Teen Wolf star Dylan O'Brien, but whether it will be a huge hit or get lost in the maze of other releases remains to be seen.
Vampire Academy
Hey, you like vampires right? Based on a the series about an academy that trains vampires, the studios are hoping this series becomes the next Twilight. With a lot of supernatural action and romantic drama, it does seem in a good position to be embraced by the Twilight crowd.
The movie rights of dozens more high profile young adult novels are being snapped up as we speak, and in the coming years we'll see more and more movie versions hit the theater. Will these adaptations soar or splat? It's too soon to tell, but it seems unlikely the YA trend is going anywhere.
More:
'The Hunger Games: Mockingjay' Casts Lily Rabe
'Divergent' VMA Teaser
Jeff Bridges To Star In 'The Giver'
---
From Our Partners:


40 Most Revealing SeeThrough Red Carpet Looks (Vh1)


15 Stars Share Secrets of their Sex Lives (Celebuzz)