Zac Efron and Steve Harvey Take on 'The Hunger Games'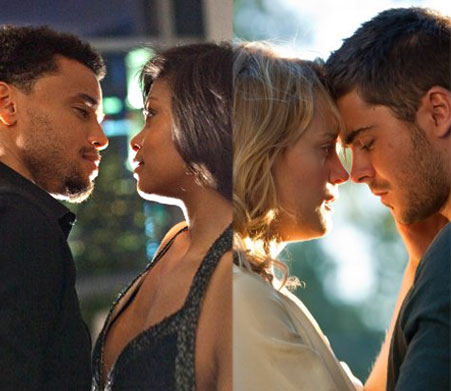 The Hunger Games may have been rated highly in its pre-release training, but no one expected it to be taking out the competition the way it has been since entering the arena. Last weekend, the young adult fiction adaptation snatched up a fourth consecutive weekend at number one, topping blockbuster franchises like Harry Potter, Twilight and the third highest grossing movie of all time, The Dark Knight. Will it hold on for a fifth weekend?
Not if the two new releases can help it. Hollywood.com Box Office Analyst Paul Dergarabedian's early predictions see the box office juggernaut finally toppling, all the way down to spot number three. Vying for the top spot are Sony's Think Like a Man (read the review), based on the popular book by Steve Harvey, and The Lucky One, Zac Efron's foray into the world of Nicholas Sparks. The two movies are neck-and-neck, Dergarabedian estimating weekend grosses anywhere in the high teens.
Either way, it looks like The Hunger Games' (read our review) 28-day run at number one comes to an end. The movie should earn a number in the low teens and bring its grand total to around $350 million. Let's hope that tidy sum buys Katniss enough bread until the sequel.
Last weekend's new releases will continue to duke it out for coveted box office dollars while maintain their positions in the top five. The Three Stooges (read our review) and The Cabin in the Woods (read our review) — two wildly different movies with surprisingly positive reactions — should bring in another $10 million each over the Friday to Sunday run, while Titanic 3D continues to tap into nostalgia for a place on the top 10.
As for the other new release, DisneyNature brand lets loose another Earth Day-friendly picture, Chimpanznee, into 1,500 theaters. The kid-friendly documentary should gross a solid $7 to $8 million over the weekend.
While Hunger Games fever may finally be tapering off, don't forget Lionsgate's last-minute play: the movie returns to IMAX screens April 27 to May 3.
Find Matt Patches directly on Twitter @misterpatches and remember to follow @Hollywood_com!
More:
How 'Hunger Games' Topped 'Twilight,' 'Potter' and 'The Dark Knight'
'The Avengers': Stacking up Against Other Marvel Movies