Zac Efron Gets Peed on By Nicole Kidman?!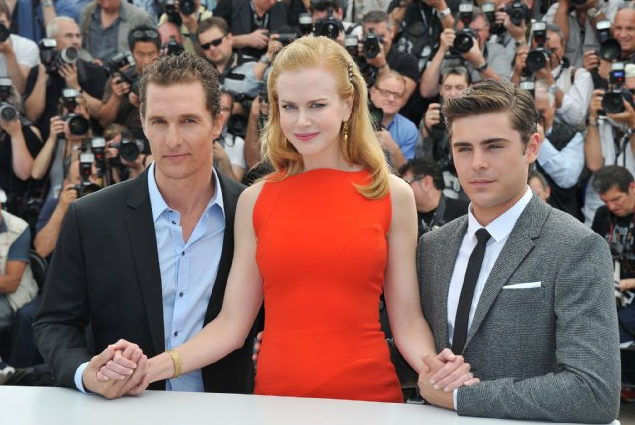 Let's try to be mature about this, America. Zac Efron is getting peed on in his new film. By none other than Nicole Kidman.
I know, I know! I promise I'm not taking the piss out of you. Disney's former golden boy is taking another step into the bowels of serious acting, starring alongside Kidman, Matthew McConaughey and John Cusack in The Paperboy. The film, currently at Cannes, has garnered a lot of skepticism due to its uncomfortable moments—namely Efron's one way trip to Urinetown after getting stung by a jellyfish. Kidman's character steps in and lets it all leak out—and don't think for a second you don't see a wee bit of pee, either, because apparently Daniels really wants you to experience the stream…of consciousness.
Vulture reports that the film has more than a few campy, over-the-top moments within it, but that the craziest of all is when you get up close and personal with a sprinkle of tinkle that ends up on Efron's chest…and face! Mon dieu! Can it be true? Oui Oui, apparently.
Daniels is no stranger to making a splash. His last film, 2009's Precious was acclaimed for making its viewers uncomfortable (to say nothing of Monster's Ball). What is it about pee that crosses the (yellow) line? It seems as though the reviewers at Cannes are just piddling around and not getting to the heart of the matter here, which is how much Nicole Kidman looks like Lindsay Lohan's mom in the promotional shots from the film. (Seriously….urine for a surprise!)
Also—OMG, pee jokes! Teeheeheeweewee!
Are you excited to see The Paperboy? Do you think including a scene like this will make the film float or flop?
Follow Alicia on Twitter @alicialutes
[Image via Getty Images]
MORE
Nicole Kidman Covets Zac Efron in 'Paperboy' Poster
Looking at Buff Zac Efron Makes Us Feel Dirty
Zac Efrons Cannes-Bound Paperboy Looks Serious, Insane — PICS