Zac Efron vs. Seth Rogen: Which Bro Would You Rather Hang With?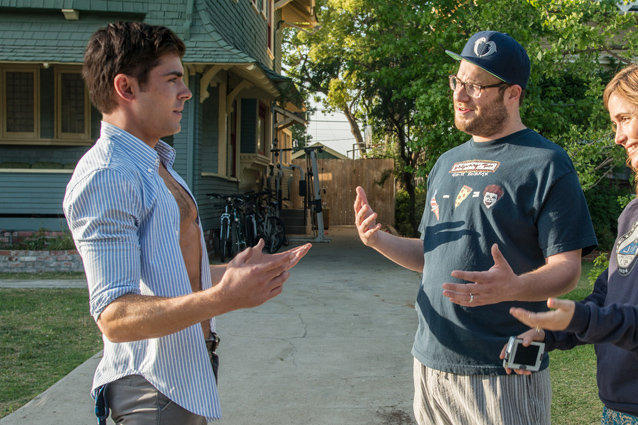 Universal Pictures
In the upcoming movie Neighbors, Seth Rogen and Rose Byrne play new parents who don't realize the dream home they just purchased is next door to a frat house. Zac Efron is the leader of the fraternity who doesn't see the need to tone down the partying just because there's an infant next door. And just as they are adversaries in the film, real life Efron and Rogen represent opposite sides of the dude spectrum.
One is a buff heartthrob who rose to fame in Disney musicals. The other is part of Judd Apatow's comedy troupe with an unabashed love of weed. If you had the choice, though, who would you rather have as part of your crew: Efron or Rogen?
Team Efron
Leading up to Neighbors, Efron has been parading around without a shirt so much that it's almost jarring when we see him fully dressed. Of course, if we had Efron's body we'd probably show it off as well. The former High School Musical star has been moving steadily into adult roles, but he's still retains the boyish charm of his teen idol days. Besides being gorgeous, thanks to the actor's background with Disney we know that he can also sing and dance… and having a bro around with musical talent is woefully underrated. Efron reportedly did a pair of stints in rehab in the last year, so the activities would have to be sober, but we can handle that. After all, our Instagram account would suddenly get a lot better looking.
Team Rogen
Rogen's onscreen persona is seemingly only a slight exaggeration of his real self. Rogen started out with pals James Franco and Jason Segel on Apatow's much-loved Freaks and Geeks, and his role as a sarcastic schlub has largely provided the template for how the actor's been used ever since. Since he rose to stardom via Knocked Up, Rogen has become a favorite of talk show hosts for his willingness to tell funny, candid stories about his celebrity friends as well as his panache for helping out with any funny idea… whether that's doing a spoof of the Kanye West-Kim Kardashian Vogue photo shoot with Franco or teaming with Jimmy Kimmel for a parody of True Detective. His recreational choices are well known, but he manages to keep himself out of trouble by keeping everything low-key. He's the guy that you want sitting on your sofa goofing on Game of Thrones. He might not be a traditional stunner like Efron, but you're almost guaranteed to laugh when he's around.
Based on the recent video of the pair "auditioning" for the cubicle dwellers of Comedy Central's Workaholics, it seems as though hanging out with both Rogen and Efron would be a blast (you can check out the NSFW clip here). But, if you have to choose, who would it be… the pretty one or the funny one?