Zach Galifianakis vs. Jim Carrey — Who Would Be Funnier in 'Loomis Fargo'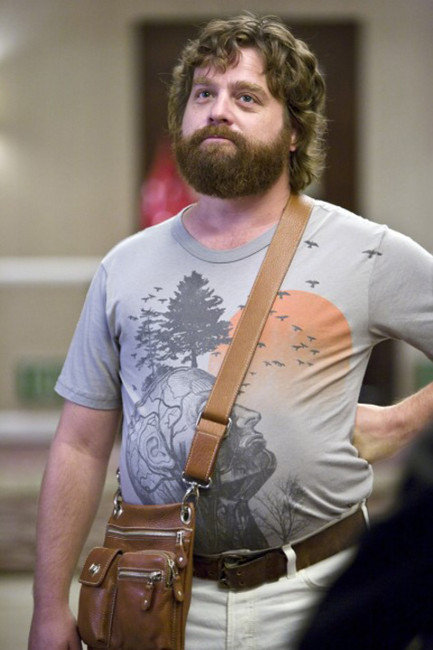 Warner Bros. Entertainment
Due to a scheduling conflict, Jim Carrey was forced to drop out of an upcoming comedy, previously titled Loomis Fargo and co-starring Owen Wilson. Additionally, Zach Galifianakis was just announced as his replacement. The loosely-based-on-real-life film follows a 1997 armored car driver (Galifianakis) who joins with a few criminals to steal from his employers, only to be promptly betrayed. 
In a world of highly fragmented comedy cliques, this film is a surprising melting pot, with Galifinakis representing the alternative stand up crowd, Wilson championing the mid 2000s "Frat Pack," producer Lorne Michaels bringing his years as creator of Saturday Night Live, Danny McBride bringing in the Apatow crowd and his own Eastbound and Down fanbase, and Napoleon Dynamite director Jared Hess. And, oddly enough, the script by Emily Spivey, creator of Up All Night, will be sharing its story cues with Michael Bay's Pain and Gain, which had an oddly similar storyline this past April (a few underachievers rob their rich client in the late '90s). 
But the big story is Galifianakis' casting. He will be anchoring the movie as the lead, which should mark quite a switch from Jim Carrey's version of the character. Should we be rooting for Carrey to take back the role? Or supportive of the jump to Galifianakis? It's too close to call, so let's weigh the pros and cons:
Point: Galifianakis can definitely play disgruntled fury straighter than Carrey, who always gives a little hint of mania even when he's supposed to be furious. This could make the Galifianakis version of the story darker. 
Counterpoint: But Carrey's expressiveness makes him far more empathetic as a leading man. He can be heartbreakingly open-faced, playing a guileless character who would trust obviously duplicitous criminals without coming across as an idiot (a trap Galifianakis often falls into). 
Point: Carrey's already proven he can carry a film, starring in not just big comedies like Ace Ventura but also stranger, less predictable films like Eternal Sunshine of the Spotless Mind. (And let's not forget that back when he first hit it big, his human cartoon comedy style wasn't predictable either.)
Counterpoint: Galifianakis has crazy chemistry with pretty much any comedy star you put him up against, even if the films flop. Due Date and The Campaign were uninspired films, but he managed to stand out against Robert Downey Jr. and Will Ferrell, two of the most focus-pulling performers working.
Point: Galifianakis looks like he's be an armored truck driver. That might sound like nothing, but it's not just his busy beard and under eye circles — he can convincingly carry himself like a blue collar guy.
Counterpoint: Carrey plays an amazing con man/criminal. I Love You Phillip Morris was a bit uneven, but Carrey's performance was unbelievable, using his gift for physical comedy to make an unrepentant liar charismatic beyond belief.
Final Judgement: It depends on what type of film they're trying to make. If it's a dark story about a simple driver who gets in over his head, Galifianakis will shine, but if it's more of a madcap romp, we wish it was still Carrey. Either way, the one thing we definitely want from either actor is to see his range.