Zach Galifianakis in 'The Campaign': If Seth Galifianakis Went Into Politics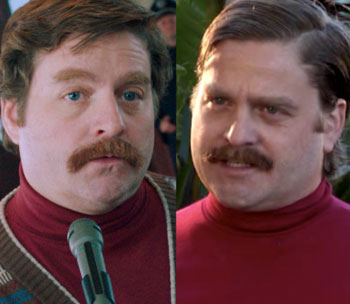 Simply put, Seth Galifianakis is rather shy fellow. While his twin brother Zach Galifianakis is a comedy superstar in Hollywood, Seth is a proud North Carolinian who doubles as a youth minister and high school football coach who enjoys the simple things in life: turtle necks, George Lopez programming, his dog Funyuns, and The Fugees.  
Still, Seth has had his own brushes with fame, too. The fanny pack enthusiast made a nervous, emotional appearance on brother Zach's cult classic stand-up DVD
Live at the Purple Onion
, interviewed Oscar-winning actor
Sean Penn 
for web series
Between Two Ferns
,
and stepped in for Zach again during an appearance on
Jimmy Kimmel Live!
But Seth may reach new levels of recognition since his brother has more or less modeled his character Marty Huggins after him in the new comedy
The Campaign
. The mustache, the hair, the accent, the wardrobe, it's all there. 
While Seth, sadly, isn't technically a "real" person (he is in our hearts) the 42-year-old star has had him (or at least variations of him) with him throughout his life and his act. During an interview with Hollywood.com on the set of The Campaign back in February, Galifianakis admitted he was excited to introduce the character to the masses. 
"I couldn't wait to do it," Galifianakis told Hollywood.com's Michael Arbeiter, "I started doing this character when I was high school. Back then, his name was Kenny Ballard, and he was an effeminate racist — which I always thought was funny: an effeminate guy, who probably gets made fun of, to also be racist. I used to do it for my dad. I used to do it for the black kids at school. They would bump me in the hallway because they knew this character would come out. They were laughing because they knew I was doing a joke about the rednecks that were racist. To answer your question, I had been wanting to try and figure out how to do that persona in a movie. I hope people can sit through it." Ninety minutes of a Kenny Ballard/Seth Galifianakis hybrid running for Congress against
Will Ferrell
's George W. Bush/Ricky Bobby hybrid? Yeah, we think they'll manage. 
Since the tremendous success of The Hangover and his breakout role as Alan, it's sometimes all too easy to forget that in the comedy world, Galifianakis was something of a hidden gem. A pre-Reggie Watts Reggie Watts, if you will. Galifianakis' brilliantly weird array of characters from The Pretentious Illiterate to The Timid Pimp to, of course, Seth, were just part of his deliriously off-kilter act that made him one of the most original and daring acts in the business. 
While comedy snobs will lay claim to knowing about Galifianakis before his breakout, there's still time for you to get acquainted with Seth Galifianakis before The Campaign hits theaters and see what all the pre-Hangover fuss was about. 
Before there was Marty, there was Seth. Know him. Love him. The Campaign opens in theaters nationwide on Friday. 
Seth's appearance in Live at the Purple Onion. Don't worry Brian Unger, we wouldn't have been able to keep it together either.