'Zero Dark Thirty', 'Lincoln', 'Argo', 'Looper' Among WGA Award Nominees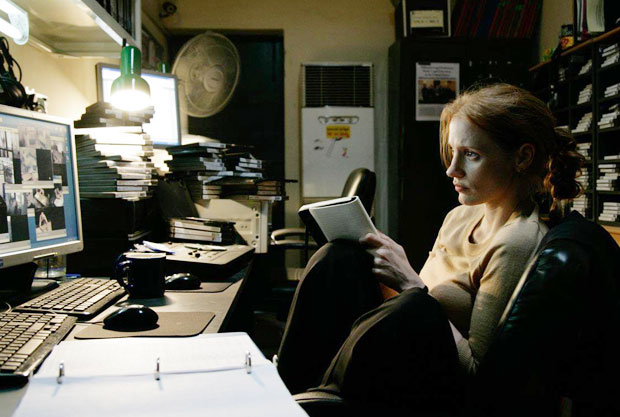 What controversy? Just one day after earning a 2013 Producers Guild Award nomination, Zero Dark Thirty — which is currently undergoing a review from the Senate Intelligence Committee regarding its depiction of "enhanced interrogation techniques" — continues to its awards season nomination dominance with a nod from the Writer's Guild of America. 
ZDT
's scribe
Mark Boal
is among the nominees in the Original Screenplay category, along with
Flight
(
John Gatins
),
Looper
(
Rian Johnson
),
The Master
(
Paul Thomas Anderson
), and
Moonrise Kingdom
(
Wes Anderson
and
Roman Coppola
). The sci-fi travel mind-bender
Looper
, which is the bona fide mainstream smash of the bunch, is only improving its Oscar odds with its WGA nod. 
That film's biggest competitor thus far this season is
Lincoln
, which also found itself with a WGA nod. The
Tony Kushner
-penned
Lincoln
script (based on
Doris Kearns Goodwin
's
Team of Rivals: The Political Genius of Abraham Lincoln
) is up in the Adapted Screenplay category, along with
Argo
(
Chris Terrio
),
Life of Pi
(
David Magee
),
Silver Linings Playbook
(
David O. Russell
), and
The Perks of Being a Wallflower
(
Stephen Chbosky
, who adapted his own material for the screen). 
In the Documentary Screenplay category the nominees are The Central Park Five (Sarah Burns, David McMahon, and Ken Burns), The Invisible War (Kirby Dick), Mea Maxima Culpa: Silence in the House of God (Alex Gibney), Searching for Sugar Man (Malik Bendejelloul), We Are Legion: The Story of the Hacktivists (Brian Knappenberger), West of Memphis (Amy Berg and Billy McMillin). 
While many of the WGA nominated films are Oscar locks at this point, like
ZDT
and
Lincoln
, other expected surefire things such as
Les Miserables
,
Django Unchained
,
Amour
were snubbed, as were wild cards like
Beasts of the Southern Wild
,
The Best Exotic Marigold Hotel
, and
Skyfall
. The
deadline
for Oscar voters is today and the nominations will be announced on January 10. The WGA awards, including the
TV nominees
(which were announced last month) will be given out on Sunday, February 17, 2013 during simultaneous live broadcasts in New York and Los Angeles. 
[Photo credit: Columbia Pictures]
More: 
'Skyfall,' 'Lincoln,' 'Silver Linings Playbook' Among 2013 Producers Guild Award Nominees