'Zero Dark Thirty': Pentagon Moves Forward with Investigation of Osama bin Laden Info Leak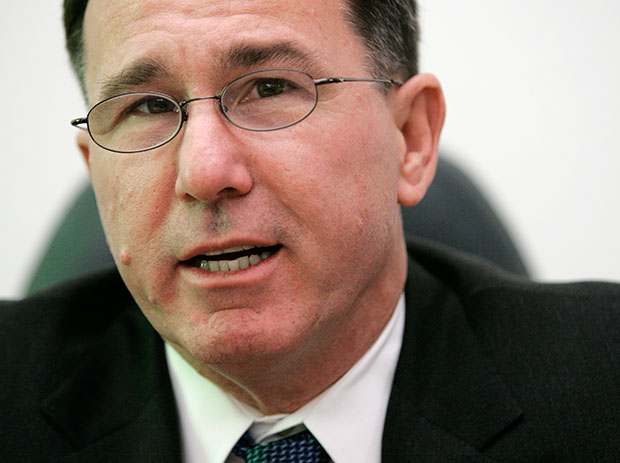 When it comes to securing national secrets, the United States government is on top of their game. So when one of those "classified" secrets possibly leaks, the Department of Defense is going to get involved. A spokesperson for the Pentagon confirms to Hollywood.com that one of those investigations is underway. The Inspector General is investigating Under Secretary of Defense for Intelligence Michael Vickers for providing information about the raid that killed Osama bin Laden to the filmmakers of the upcoming historical drama, Zero Dark Thirty (Zero Dark Thirty, scheduled to be released Jan. 11, is a film about the hunt for bin Laden and the Navy S.E.A.L. Team 6 that took his life in May 2011).
"Yes there is a pending Inspector General investigation," Lieutenant Colonel, James Gregory, a spokesperson for the Department of Defense, tells Hollywood.com.
According to a DOD press release, in July 2011, the department's press office asked Vickers to help Zero's filmmakers with information about bin Laden's death. Apparently, this type of aid is often provided to Hollywood often. "Interaction between reputable filmmakers and senior officials occurs at the Pentagon," Gregory says. "We routinely provide assistance to filmmakers in an effort to ensure that scripts are accurate and portray the military in an accurate manner."
Gergory says that the Assistant Secretary of Defense for Public Affairs asked Vickers "to talk to" Mark Boal and Kathryn Bigelow, the filmmakers — and that during the meeting, "the information he provided was deemed to be unclassified." In fact, a transcript of the interview was made available to the public in May 2012.
But even though the information was deemed "unclassified," Vickers is still being investigated. "It was a sensitive operation, so it's within their [Inspector General's office] scope to determine if any 'classified' information was released," Gregory says. And there is no set limit to how long the investigation will last. "They conduct their own investigation to the point it's complete, independent of timelines," Gregory says.
And while Sony Pictures has yet to offer comment to Hollywood.com about the investigation, Vicker's boss at the Department of Defense isn't worried that the investigation will turn up anything. "The secretary has full confidence in Mr. Vickers and believes he is doing an outstanding job," the press release says. "Mr. Vickers is a national security professional with a long career spanning multiple administrations, including distinguished service in Special Forces, the CIA, and at the Pentagon."
Follow Lindsey on Twitter @LDiMat.
[Photo Credit: Haraz N. Ghanbari/AP Photo]
More:
Zero Dark Thirty' Picks Up Best Picture, Actress for Chastain from National Board of Review
'Zero Dark Thirty' Is an Action Movie Pulled from the Headlines — TRAILER
'Zero Dark Thirty' Bumped to January… Just in Time for Oscars Season

'A Few Good Men': Where Are They Now? (Moviefone)

Best Mother and Son Movies: 'Forrest Gump' and More! (Moviefone)