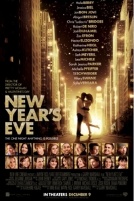 Boasting more stars than you can shake a champagne bottle at, Warner Bros. ensemble romantic comedy "New Year's Eve" rang in the weekend with a chart topping $13.7 million. Directed by "Valentine's Day" helmer Garry Marshall, the film includes Sarah Jessica Parker, Jessica Biel, Halle Berry and even Robert DeNiro among many others in a story of love and romance in New York City on surprise, New Year's Eve.
Second place belongs to Jonah Hill in the comedy "The Sitter" from Twentieth Century Fox with a gross of $10 million. Hill plays a suspended college student tasked with babysitting a group of unruly kids on a wild night and will finally bring some R-rated fun back into the top five.
Summit Entertainment's "The Twilight Saga: Breaking Dawn, Part 1" enters its fourth weekend after holding the top spot for three straight weeks and finds itself in third place with a gross of $7.9 million. A domestic gross approaching $260 million awaits the vampires and werewolves by the end of the weekend.
Disney's "The Muppets" held in the second spot in the mid-week derby but took fourth place for the weekend with $7.1 million and now has a domestic total to date of $65.8 million. Sony's "Arthur Christmas" was not far behind in fifth with $6.6 million and had the smallest drop of any film in more than 900 theaters this weekend and now has $33.5 million in the gift bag.
Some great news in the specialized film marketplace with Focus Features' "Tinker, Tailor, Soldier, Spy" earning a whopping $300,737 in 4 theaters for a massive per-theater average of $75,184. Paramount's "Young Adult" also scored big with $800,000 in just 8 theaters and a per-theater take of $40,000.
The lowest grossing overall box office weekend since September 2008, but the cavalry is about to arrive with IMAX's "Mission: Impossible – Ghost Protocol" preview screenings on December 16 as well as the opening of Warner Bros.' latest "Sherlock Holmes" installment and Fox's "Alvin and the Chipmunks: Chipwrecked."
Weekend Box-Office
Top Movies for Weekend of December 9, 2011 (Estimates)
Movie Weekend Gross Total to Date 1 New Year's Eve (PG13) $13.7M $13.7M 2 The Sitter (R) $10.0M $10.0M 3 The Twilight Saga: Breaking Dawn - Part 1 (PG13) $7.9M $259.5M 4 The Muppets (PG) $7.1M $65.8M 5 Arthur Christmas (PG) $6.6M $33.5M