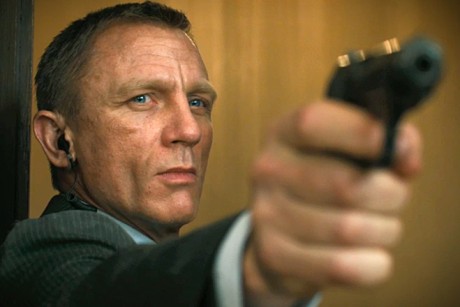 Like an Aston-Martin DB5 at full throttle the 23rd installment of the James Bond franchise, Skyfall is off to a blistering start in both IMAX and traditional theaters.
The best Bond film in years, the film earned $2.2 million in Thursday previews that were exclusive to 463 IMAX and Premium Large Format theaters. Midnight shows grossed an impressive $2.4 million for a combined total of $4.6 million. According to Sony Pictures, early matinees are through the roof, including exceptional performance from Imax theaters that are now running with their regular schedule.
We are projecting a $70 to $75 million (though $80M plus would not surprise us) North American weekend debut for the film which would be the biggest start for any Bond film (Die Another Day - $47.0M/Casino Royale - $40.8M/Quantum of Solace - $67.5M) - and an assured number one spot at the box office this weekend. Having already earned over $300 million internationally, Skyfall is on track to rival the worldwide numbers of $596.0 million and $575.4 million posted by Casino and Quantum respectively.
The following data courtesy of Facebook gives particularly terrific insights into the Bond phenomenon:
In advance of the highly anticipated premiere of Skyfall today, we wanted to share some fun facts about the movie and its fans on Facebook. Average daily mentions of the film are up 508 percent from this time last month, and "Skyfall" has been the most mentioned 007 term. Did you know that fans of James Bond are more likely to also like Indiana Jones and Jason Bourne? That Facebook mentions of the term "Bond Girl" are up 113%? Thanks to the dedicated 007 fans on Facebook who are counting down the days until they see Daniel Craig return to the big screen (52% of his Facebook fans being women), we now have answers to these questions and much more. Most-Mentioned Terms Looking at total mentions now, here's how the 007-related terms rank in terms of what's getting the most mentions: 1. Skyfall 2. James Bond 3. Daniel Craig 4. Severine 5. Bond Girl 6. Javier Bardem 7. Judi Dench 8. Sam Mendes 9. Ralph Fiennes 10. Albert Finney Mentions Increases – Top 007 Terms Comparing the average daily mentions now vs. a month ago: • Mentions of Skyfall are up 508% • Mentions of Daniel Craig are up 185% • Mentions of "Bond Girl" are up 113% • Mentions of James Bond are up 104% Mentions Increases – Director & Other Actors Comparing the average daily mentions now vs. a month ago. Note that these % increases are higher than the above because the baseline amount of mentions they started from were much lower: • Mentions of Javier Bardem are up 800% • Mentions of director Sam Mendes are up 707% • Mentions of Bérénice Marlohe are up 594% • Mentions of Naomie Harris are up 415% • Mentions of Judi Dench are up 377% • Mentions of Albert Finney are up 258% Talk Meter Buzz We used the Talk Meter to calculate which user groups are buzzing the most about the movie and the actors. Skyfall / James Bond • Men are buzzing more overall about the movie than women o Top male groups: 1. Men 25-34 2. Men 18-24 3. Men 35-44 o Top female groups: 1. Women 18-24 2. Women 25-34 3. Women 35-44 • Top states: Washington, Utah, Oregon, Minnesota, Wisconsin, Massachusetts, Virginia, California, Maryland, Arizona • FYI: The UK is buzzing almost twice as much as the US! Top Countries: UK, US, India, France, Germany, Malaysia, Indonesia, Netherlands, Mexico Daniel Craig: • Men are buzzing a bit more than women o For both men and women, the 35-44 age group is buzzing the most, followed by 25-34. • Top states: Michigan, Connecticut, Maryland, North Carolina, Louisiana • The UK is currently buzzing more than 5 times as much about Daniel Craig than the US. Top Countries: UK, India, US, Singapore, France, Germany, Spain, Sweden, Netherlands, Canada James Bond Demographics James Bond 007 • 79% male; 21% female • 36% of fans are 18-24; 22% are 25-45; and 17% are 13-17 • Top countries: US, India, UK, Indonesia, Germany o Note: The top city in terms of fan volume is London Daniel Craig • 52% female; 48% male • 39% of fans are 18-24; 24% are 25-34; 16% are 35-44 • Top countries: UK, US, India, France, Germany o Note: The top city in terms of fan volume is also London Other Movie Pages Also Liked By Fans of James Bond 007 • Fans of James Bond 007 – more likely to also like: o Indiana Jones o Bourne o Batman Begins o The Dark Knight Rises o Mission: Impossible o Star Trek o The Matrix o The Terminator o Star Wars