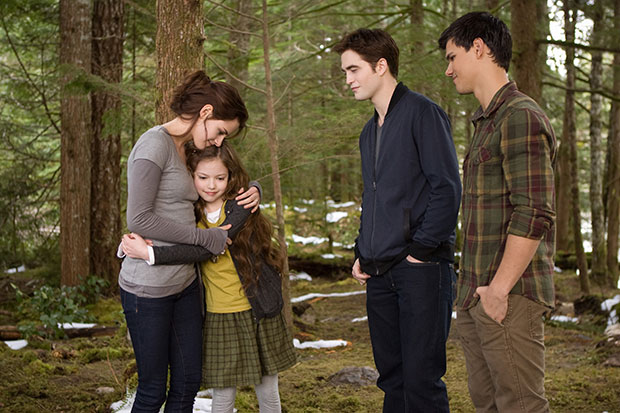 Not only has Breaking Dawn, Part 2 gotten off to a howling start in North America with $30.4 million in Thursday previews and midnight screenings, it has also grabbed the international market by the throat!
The following data is courtesy of Summit Entertainment, a Lionsgate Company: THE TWILIGHT SAGA: BREAKING DAWN Part 2 - International Estimates. Summit is pleased to announce that from the 37 International territories that opened as of yesterday, Thursday 11/15, the international cumulative gross is a very impressive $38.8 million (not including the U.S. and Canada). 24 additional territories are opening today, Friday 11/16, which brings the total to 61 territories opened along with the U.S. and Canada. Nearly every market has opened to grosses at or well above the last installment in the franchise (Twilight Saga: Breaking Dawn Part 1). Some territory highlights below. NOTE: The next international estimates update will come on Sunday morning.
* Brazil - Brazil posted an opening day of $5.4 million, which is the largest opening day figure for any TWSBD P2 market thus far. * Australia - Opened on Thursday to a very strong 3.7 million. * Russia - TWSBD P2 opening day comes in at $4.4 million which is 42% higher than TWSBD P1; this is a record for the Top Non-Holiday Opening Day of All-Time. * France - After two days in release the gross is $6.1 million, which is about $1 million dollars ahead of TWSBD P1 at the same point. * Italy - Posted a two day total of $4.2 million which is up 19% from TWSBD P1 at the same point. * Mexico - Debuted with an opening day of $2.4 million, which is 41% higher than TWSBD P1 at the same point * Benelux - Has accumulated $1.9 million after 2 days, which is 44% higher than TWSBD P1 at the same point.
We will be reporting Twilight numbers as we get them throughout the weekend so keep checking back with Hollywood.com!