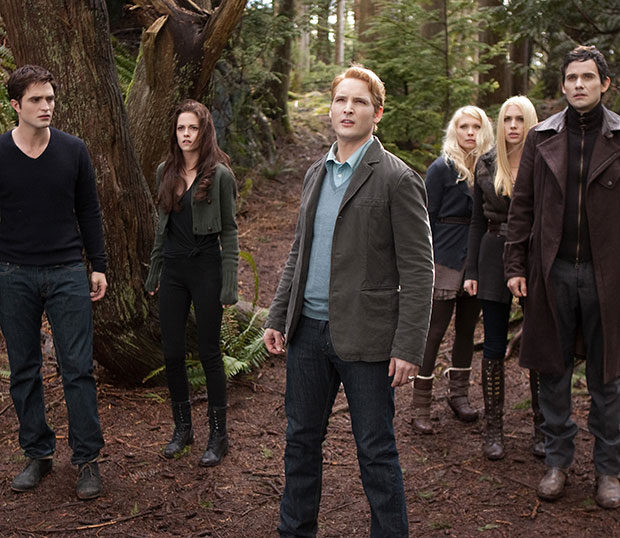 What do you get when you mix the finale of a supernatural saga, the world's most deadly assassin, a dash of American history, badass Santa, and an unlikely friendship? The lineup for a record-breaking holiday weekend!
The Thanksgiving holiday is known for being one of the most popular movie-going weekends of the year, but this year the five-day break exceeded the already high expectations with a whopping $290 million! The previous Thanksgiving record-breaking weekend was back in 2009 with The Twilight Saga: New Moon, The Blind Side, 2012, Old Dogs and X-mas Carol drumming up a total of $273 million.
PHOTOS: 12 Unforgettable 007 Death Scenes
As predicted, the tweens (and the too embarrassed to admit it parents) once again flooded the theaters and The Twilight Saga: Breaking Dawn, Part 2 : topped the five-day box office weekend with $64.02 million in ticket sales. Skyfall's numbers were shaken (not stirred) up to $51 million this million with a wildly impressive $221.7 million total to date.
PHOTOS: 'Twilight: 20 Memorable Moments
Daniel Day-Lewis's captivating performance led Lincoln to a solid $34.09 million from Wednesday to Saturday. And the two theater newbies, Rise of the Guardians and Life of Pi rounded up the bottom two with rather respectable numbers considering the Twilight and James Bond power-houses they were up against.
So what were the films that caused this record-breaking weekend? Check out the weekend's top five below!
1.The Twilight Saga: Breaking Dawn, Part 2 : $43.07 million (3-day); $64.02 million (5-day); $226.9 million total
2.Skyfall:$36 million (3-day); $51 million (5-day); $221.7 million total
3.Lincoln: $25.02 million (3-day); $34.09 million (5-day); $62.2 million total
4.Rise of the Guardians: $24.02 million (3-day); $32.6 million (5-day); $32.6 million total
5. Life of Pi: $22 million (3-day); $30.1 million (5-day); $30.1 million total
Which movie did you see at the box office this weekend? Tell us your favorite in the comments below!
[Photo Credit: Summit Entertainment]
MORE:
Thanksgiving Box Office on Record Pace!
'Breaking Dawn' to Make Box Office Stuffing of Rivals!
'Breaking Dawn - Part 2' Has a Big First Day at the Box Office

Jennifer Lawrence Bikinis in Hawaii (PICS)

Best and Worst of the Thanksgiving Parade