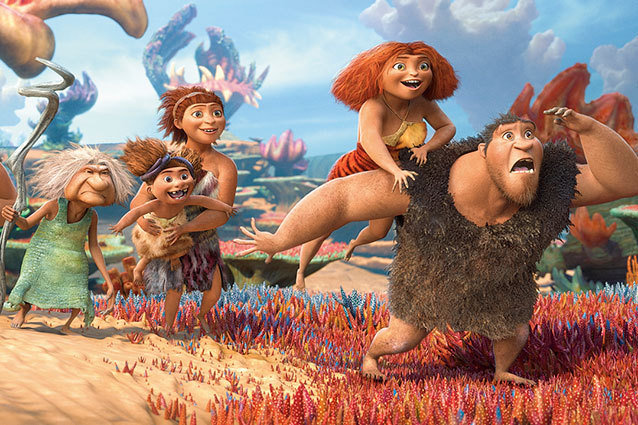 Dreamworks animation and Twentieth Century Fox go positively prehistoric with the PG-rated The Croods, featuring the voices of Nicolas Cage, Emma Stone, Ryan Reynolds and Cloris Leachman.  A solid opening weekend of $40 million will put this story of a caveman and his family on a fantastical road trip at the top of the box office chart this weekend. The film debuts in a brontosaurus-sized 4,046 theaters and should draw families and kids (who have been pretty much left out in the cold so far this year) to the multiplex.
The other family film offering this weekend is Disney's Oz The Great and Powerful, which has led the box office since its debut on March 8.  The film opened with an impressive $79.1 million (the biggest debut of the year so far) and held the top spot for two consecutive weekends. Starring James Franco, Mila Kinus, Michelle Williams and Rachel Weisz, the first blockbuster of the year has earned more than $150 million in North America and should cross the $170 million mark by the end of the weekend with another $20 million in green added to the Oz bank.
RELATED: 'Oz' Still Enchants While 'Burt Wonderstone' Makes No Magic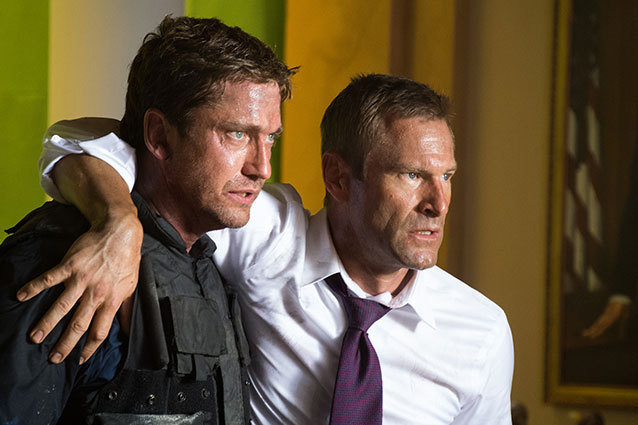 A newcomer will battle Oz for the second spot as FilmDistrict's Olympus Has Fallen, starring Gerard Butler, opens in 3,098 theaters.  The R-rated action film is directed by Training Day helmer Antoine Fuqua and co-stars Morgan Freeman and Aaron Eckhart in this intense story of the kidnapping of the President of the United States and of course Butler is sent in to kick some ass.  The film is tracking strongly with males 18+ should gross in the high teens according to the distributor, though we think it could cross over the $20 million mark if it really connects with the target audience and thus could debut in second place.  This year has been a tough one for R-rated action movies aimed at the younger male demographic, so hopefully Olympus can climb to greater box office heights than its predecessors.
This means that fourth place should go to Halle Berry in the R-rated thriller The Call, which earned a better-than-expected $17.1 million last weekend. The film drew women in big numbers and an expected gross of around $9 million this weekend will put it over the $30 million mark in North America by Sunday night.
The fifth spot is open for a battle between a newcomer and a notable film expanding into wide release between a newcomer and a notable film expanding into wide release. We are giving a slight edge to A24's Spring Breakers which had an impressive limited release debut, taking in a staggering $263,002 in just three theaters. Building on buzz created at this year's SXSW, the bikini-and-guns yarn hopes to make its mark in national release this weekend with a gross in the $6 to $7 million range.
RELATED: 'Spring Breakers' is Hot at Box Office as it Parlays SXSW success!
This will put it on a collision course with the Tina Fey, Paul Rudd PG-13 comedy Admission, which is expected to make its debut with around $5 to $6 million. The film centers around a Princeton admissions officer who is faced with the possibility that a college-bound kid might be the son she put up for adoption many years earlier. Clearly aimed at 30-plus women and SNL fans, the comedy will make a modest splash this weekend.
Year-to-date box office is on the verge of hitting the $2 billion mark, but we are unfortunately running 12% behind last year's revenues at this point. Seven out of the last eight weekends have been down vs. the comparable period in 2012, and we are about to add another down frame this weekend because last year's comps include the $152.5 million debut of the first Hunger Games installment.
Still, we are optimistic that there are films on the horizon that can help the box office get its groove back including G.I. Joe Retaliation, Tyler Perry's Temptation, Evil Dead, and Tom Cruise in Oblivion, to name just a few.
[Photo Credit: 20th Century Fox, FilmDistrict]