Warner Bros.' Man of Steel sets new June all-time opening weekend record with $113,080,000 in 4,207 theaters for the Friday through Sunday period and $125,080,000 to date including the Thursday corporate group sale screening program of $12,000,000! This is also the second best debut of 2013 behind only Iron Man 3. See below for the list of Top June debuts:

Top June Openers – Hollywood.com
1    Jun 14, 2013    Man of Steel    $113,080,000
2    Jun 18, 2010    Toy Story 3    $110,307,189   
3    Jun 26, 2009    Transformers: Revenge of the Fallen    $108,966,307   
4    Jun 4, 2004    Harry Potter and the Prisoner of Azkaban    $93,687,367  
5    Jun 22, 2012    Brave    $66,323,594   

Playing on 331 IMAX screens, the domestic performance of Warner Bros.' Man of Steel delivered an outstanding $13.3 mil in the IMAX network, a record opening for a June release. This is a 12% of the weekend take! IMAX's International box office for Man of Steel, on the first batch of 79 screens to open day and date, hit $4.2 mil (a stellar $53k per screen) and again, a June record. As of Sunday night, IMAX's Global weekend gross for Man of Steel is estimated to be $17.5 mil, delivering a record for a June release.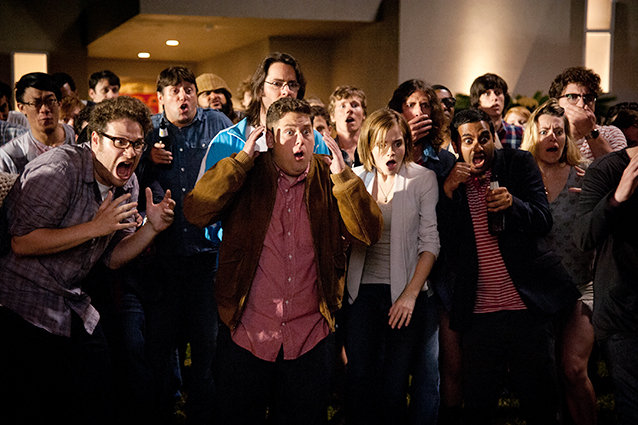 Seth Rogen, James Franco, Jonah Hill and a cast of thousands took second place with the R-rated ensemble comedy This Is the End from Sony Pictures. The film got off to a fantastic start on Wednesday taking in $7.8 million on (including a whopping $2.2 million in Tuesday late shows) and erned $20.5 million for the weekend and earned back its entire production budget with its 5-day take since Wednesday of $32.8 million.
 
Lionsgate's magic heist film Now You See Me is holding strong in its third weekend dropping just 46% and earning $10.32 million, Universals' Fast & Furious 6 lands in fourth place with $9.4 million while Universal's profit making machine The Purge starring Ethan Hawke rounds out the Top 5 with $8.2 million against a 76% second weeken drop. Fox's Google comedy The Internship is in the sixth spot in its second weekend with $7 million.

Next week look out for Brad Pitt in Paramount's World War Z and Disney/Pixar's animated prequel Monster's University!

Top Movies for Weekend of June 14 - June 16 (Estimates) - 'Man of Steel' sets June opening weekend record!
      Movie                 Gross  Theaters Avg.Per    YTD       Distributor
01  Man of Steel      $113.08M   4,207      $26,879   $125.08M WB
02  This is the End  $20.5M       3,055      $6,710     $32.8M    Sony
03  Now You See Me $10.32M   3,082      $3,348     $80.0M  Lionsgate
04  Fast & Furious 6  $9.4M      3,375       $2,795     $219.6M  Universal
05  The Purge             $8.2M      2,591       $3,165      $51.8M    Universal