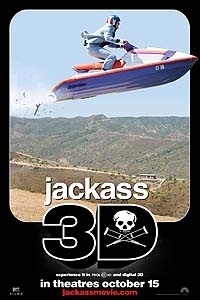 Johnny Knoxville and company are set to make a complete jackass out of the box office as Paramount's 'Jackass 3D' looks to add another number one debut to the franchise's perfect track record.  Derived from the outrageous MTV show, the first film was a surprise hit in 2002 when it opened at number one in late October with $22.8 million.  The second film was an even bigger hit when it opened in late-September of 2006 with $29 million and yet another number one debut.  It looks like these jackasses will have the last laugh all the way to the bank once again, but this time they are boosted by the novelty factor of the addition of 3D which brings the gross-out quotient to an even higher level and give them a 3D enhanced weekend take that should be the best of the franchise.
Summit Entertainment's 'RED' takes a page out of 'The Expendables' playbook with an all-star ensemble cast, action galore and enough comedic elements to give the film broad based appeal.  Bruce Willis, Morgan Freeman, John Malkovich, Mary-Louise Parker, Helen Mirren and Richard Dreyfus round out a very diverse, though somewhat unconventional cast for this type of action film.  A solid debut awaits the film, which will have appeal to action fans as well as older audiences.
Sony's 'The Social Network' continues its terrific run, hitting the $50 million mark on Wednesday after just 13 days of release as it continues to generate strong word-of-mouth, draw critical accolades and even awards season buzz.  Director David Fincher tells the compelling tale of the formation of, and the battle over the social networking juggernaut that we know as Facebook.  A tiny second weekend drop of 31% solidified the film's position as a certified fall season hit and this weekend should prove to be another strong one for the film.
The second weekend of both Warner Bros.' romantic comedy 'Life as We Know It' and Disney's inspirational true life horse racing drama 'Secretariat' will put them in a dead heat for the fourth and fifth positions in the weekend derby.
Last year's comparable weekend was incredibly strong with the debuts of 'Where the Wild Things Are' ($32.7 million), 'Law Abiding Citizen' ($21 million) and the first wide release of 'Paranormal Activity' ($19.6 million).