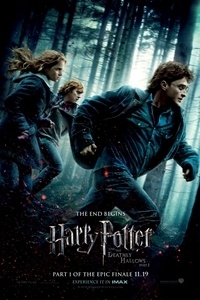 'Harry Potter and the Deathly Hallows, Part 1' puts fans in Hogwarts Heaven as they line up at midnight in massive numbers to be the first to see the latest installment in the franchise.  With a staggering $24 million for the midnight screenings alone, this performance portends a huge opening day on Friday and an opening weekend of well over $100 million. With nearly $5.5 billion in worldwide revenue, the most successful movie franchise in box office history continues to excite audiences as much today as it did back in 2001 when the first film hit theatres.
IMAX's 238 midnights did $1.436 mil, which exceeded their previous midnight record on Twilight: Eclipse, which did $1.034 mil last summer. 
A true "event" film in every sense of the word, Harry Potter and the Deathly Hallows, Part 1 will draws massive crowds to the multi-plex as this decade-long, epic adventure draws to close.  A great marketing campaign, off-the-chart audience awareness, and a record number of IMAX screens, ensure that this weekend will see "Potter Mania" hit a fever pitch. 
Click here for a printable 'Potter' stats page - Harry Potter Franchise
Click here for comparable Midnight Figures - Top Midnight Screenings
Click here to read our 'Potter' box office weekend preview story - 'Harry Potter' to Cast Massive Box Office Spell!
HOLLYWOOD.COM BOX-OFFICE -  TOP 7 Midnight Screening Figures       
    Sorted by Gross   
    Title & Distributor    Midnight Gross
1    THE TWILIGHT SAGA: ECLIPSE (SUMMIT ENT.)    $30,000,000+
2    THE TWILIGHT SAGA: NEW MOON (SUMMIT ENT.)    $26,270,000
3    HARRY POTTER AND THE DEATHLY HALLOWS, PART 1 (WARNER BROS.)    $24,000,000
4    HARRY POTTER AND THE HALF-BLOOD PRINCE (WARNER BROS.)    $22,200,000
5    THE DARK KNIGHT (WARNER BROS.)    $18,500,000
6    STAR WARS: EPSIODE III - REVENGE OF THE SITH (FOX)    $16,900,000
7    TRANSFORMERS: REVENGE OF THE FALLEN (PARAMOUNT)    $16,000,000