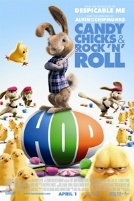 Universal's animated Easter-themed Hop had a much better-than-expected $37.5 million debut last weekend and has become the first film this year to repeat at the top of the chart with a gross of $21.7 million.  Russell Brand who also stars in this week's Arthur, is the voice of E.B., the teenage wannabe rockstar son of the Easter Bunny.  Brand is suddenly be the king of the box office as he manages an impressive one-two finish this weekend as Hop nears the $70 million mark.
Speaking of which, Russell Brand stars as Arthur in Warner Bros.' remake of the Dudley Moore massive comedy hit (the film earned $95.5 million in 1981!) which co-starred Liza Minnelli and spawned the sequel Arthur: On The Rocks in 1988.  As the drunken spoiled-brat rich kid Brand is the perfect modern choice to take over the title role.  The presence of Helen Mirren elevates the proceedings and the modern spin on this tale combined with a solid marketing campaign gave Arthur $12.6 million more in his considerable piggy bank.
Check out our exclusive Russell Brand-themed comic strip from Francesco Marciuliano.  Francesco writes the internationally-syndicated comic strip "Sally Forth" and the webcomic "Medium Large." He was the head writer for the PBS series "SeeMore's Playhouse," for which one of his episodes won two 2007 Daytime Emmys. He currently writes for the Onion News Network.

Both the family audience and the comedy fans are covered this weekend so Hanna from Focus Features filled the action role with a take-no-prisoners action film that features a terrific cast including Cate Blanchett, Eric Bana and Saoirse Ronan in the title role of the 16-year-old assassin.  Channeling the spirit of such female-based action films as 1991's La Femme Nikita and 1994's The Professional, Hanna effectively drew both men and women to the multi-plex and hit the target with $12.3 million.
In fourth place, Sony's Soul Surfer tells the true story of teenaged champion surfer Bethany Hamilton's (AnnaSophia Robb) incredible recovery from a terrifying shark attack that took her left arm.  Starring Helen Hunt and Dennis Quaid, the PG-rated film earned $11.1 million this weekend drawing both families and the faith-based audience looking for an uplifting experience at the movie theater. 
Film District's horror thriller Insidious had a small 27% second weekend drop which is much smaller than usual for a horror film and reflects strong critical and audience reaction to the film which has earned $27.1 million to date.
Debuting in sixth place is Universal's Your Highness which presents brotherly rivalry in the days of knights and maidens and takes it to a new high.  Starring Danny McBride and James Franco as unlikely brothers Thadeous and Fabious, the film follows the misadventures of the pair as they embark on a quest to rescue Fabious's bride Isabel as played by Zooey Deshannel.  Boasting plenty of tongue-in-cheek Oscar-cred with both Franco and Portman well represented at this year's Academy Awards, Your Highness scored a gross of $9.5 million.
Notably opening on 206 screens this weekend in IMAX is the family-friendly documentary adventure Born to be Wild 3-D from Warner Bros.  The film wrangled an opening weekend gross of $850,000 and a per-screen average of $4,126.
Also notable this weekend is the second release from Pantelion Films (a division of Lionsgate Films) titled No Eres Tu, Soy Yo which played in 226 theaters in the top 20 Latino markets
This is the seventh consecutive down weekend at the box office with year ago comparisons once again tough as Clash of the Titans in its second weekend and Date Night in its debut both earned over $25 million and How To Train Your Dragon remained strong with a $24.9 million 3rd weekend.
Weekend Box-Office Estimates
Top Movies - For Weekend of April 8, 2011
    Movie     Weekend Gross     Total to Date
1     Hop (PG)     $21.7M     $68.1M
2     Arthur (PG-13)     $12.6M     $12.6M
3     Hanna (PG-13)     $12.3M     $12.3M
4     Soul Surfer (PG)     $11.1M     $11.1M
5     Insidious (PG-13)     $9.7M     $27.1M
6     Your Highness (R)     $9.5M     $9.5M
7     Source Code (PG-13)     $9.0M     $28.6M
8     Limitless (PG-13)     $5.7M     $64.4M
9     Diary of a Wimpy Kid 2 (PG)     $4.9M     $45.5M
10     The Lincoln Lawyer (R)     $4.6M     $46.5M