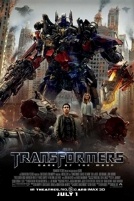 Transformers: Dark of the Moon earns an estimated $32.9 million on Friday, cumulative total after 3.5 days is approaching $100 million.
Since its debut Tuesday night at 9PM, Michael Bay's third film in the Transformers franchise is drawing huge holiday weekend crowds. With the additional revenue provided by IMAX and 3-D, the film is likely to earn in the neighborhood of $100 million for the Friday through Monday period.
Disney's Cars 2 raced into 2nd Place on Friday with $7.871 million bringing its total domestic revenues to $98.8 million.
Sony's Bad Teacher took 3rd Place on Friday with $4.5 million for a cume to date of $49.946 million.
Universal's Larry Crowne debuted in 4th with around $4.0 million for Friday.
Fox's Monte Carlo debuts in 5th Place on Friday with an estimated $3.1 million.