Here at Hollywood.com we spend most of the year writing about the big three in pop culture: movies, TV and celebrities. But we're a knowledge-hungy, webby bunch and our interests bleed beyond those constraints, just like most people. And so, in the spirit of a true 2011 wrap-up, we've come together to deliver our favorite pop culture topics from 2011 including those YouTube videos we watched so many times that we make up a decent fraction of the millions of views and the hit songs we're even singing in our sleep - even books (yeah, we read things too!). So without further ado, and in no particular order, here are our favorite bits of pop culture from 2011:
Foster The People
Die-hard fans would correct me and say that Foster The People originally enjoyed the popularity of their smash hit single "Pumped Up Kicks" in 2010 when it became a bit of a viral sensation, and they'd be correct. Technically, that's the year when the song came into our collective consciousness, but (and this is a big but) 2011 is the year in which Foster the People went from an Indie sensation to a mainstream sensation. Even if you can't recall the name of this Los Angeles based band, you've heard at least three of their songs roughly a million times whether it was on the radio, on SNL, in car commercials, in RomComs like Friends With Benefits and schlocky horror flicks like Fright Night, or even on the season finale of Homeland. Hell, half of their 2011 album, Torches, served as soundtrack fodder for the CW's biggest hit, The Vampire Diaries. The bottom line is: people of all walks love this kitchy, catchy, summery pop-rock. And while "Pumped Up Kicks" is about to go the way of Adele's "Rolling in the Deep" – to the land of over-played songs – one of the other nine songs on the album, including "Helena Beat," is sure to become the "Rumor Has It" or "Someone Like You" of the Foster the People roster. Add to all this that the trio is nominated for two 2012 Grammys and you've got a pretty solid case for why these guys landed a spot on this list. -Kelsea Stahler
Watch The Throne
With the record industry in shambles, the only artists that can make a splash in the digital age are those with true clout. Emerging acts occasionally break through the indie scene to the Billboard Top 100, but it's the icons that are responsible for the few "event albums" in any given year these days. This year, fans responded to the new efforts from Adele, LMFAO and Katy Perry in a big way, but for my money the best new music came in the form of the highly anticipated collaboration of rap's reigning champs Jay-Z and Kanye West. Their mutual 2011 release, "Watch the Throne", doesn't display the kind of growth that Lady Gaga's "Born This Way" did, but is a consistently satisfying and highly addictive audio experience. Not as lyrically inventive as it is from a production standpoint, the album has a little something for every listener, and much praise must be given to the long list of producers and songwriters who contributed to its diversity including Swizz Beats, The Neptunes, Frank Ocean, The RZA and of course Jay and Kanye. From the bass-thumping gangsta-bop "N***** in Paris", which is about as current as any other track on the album, to the pop-centric "Lift Off" featuring a reliable hook from Beyonce, to the early 90's drums-n-bass throwback "That's My Bitch" to the ultra-cool instrumentation on "Why I Love You", "Throne" is the sonic smorgasbord we knew it would be. -Daniel Hubschman
The Book of Mormon
Trey Parker and Matt Stone's leap to the Great White Way wasn't necessarily a shoe-in for musical comedy success. Even with the creators of South Park teaming up with Robert Lopez, the Tony-award winning writer/composer of Avenue Q, the duo faced an uphill battle. After all, they were risking millions on a lampoon of an entire religion (and one they've previously knocked on their show). But instead of rowdy picket lines blocking the theater's entrance or tomatoes thrown towards stage, Parker and Stone found themselves showered with praise and Tonys of their own—and for good reason. The Book of Mormon melds the low and high brow, weaving together riotous potty humor, sharp satire and classic Broadway tropes into a genuinely uplifting tale of two Mormon missions. In an era where theater struggles to stay relevant (and afloat), The Book of Mormon is a true gift from God. -Matt Patches

Spotify
Music consumption is one of modern life's very difficult – albeit obviously inconsequential, in a grand-scheme-of-things kind of way – decisions. Buying CDs is, for many reasons, not a consideration (at least for me) and the same goes for illegal downloading. Which leaves…well, a ridiculous amount of options. The best, in my opinion – and believe me, my opinion could well change greatly over the next few years, if not months – is Spotify. The streaming service, launched Stateside in July after previously dominating Europe's digital-music landscape, offers virtually unlimited music on your computer; and for $10 a month, you can stream all those songs on your smartphone (or download them, for those times when 3G/4G isn't available). The latter option has made my music-consumption decision an easier one and my overall listening experience, especially on the go, much more enjoyable in 2011. As an iPhone owner, I'm still unsatisfied with Apple's more-confusing-than-meets-the-eye (and more complicated than necessary) iTunes Match and iCloud services when it comes to having all my songs in my pocket; that's where Spotify wins me over. Additionally, the newbie's social-networking functionality – which admittedly isn't of great importance for me – blows all music services, including iTunes (remember Ping?) out of the water. Indeed, Spotify has had a huge effect on me in 2011 by offering the hands-down best music option out there. It shows great promise, and will, in turn, vastly improve the competition in the not-too-distant future. However, the prospect of losing all the music I've paid for from Spotify if I do someday change to another service, well...maybe we'll come back to that in our 2012 wrap-up. - Brian Marder

The Marriage Plot
When a new book hits stands, you may see the writer touted on a few morning talk shows, pop up in the big (remaining) book stores on tour. When The Marriage Plot was released, author Jeffrey Eugenides got his own big budget action movie-esque billboard in the heart of New York City's Time Square. That's faith. Eugenides followed up his Pulitzer Prize-winning novel Middlesex with a lighter, multi-narrative following a group of twenty-somethings in the '80s, struggling with post-college life. It's a groan-worthy, CW-esque premise that Eugenides dives into without restraint, making for one of the year's more compelling, funny reads. Thanks to the period setting, the book has a rare relatability across generations—which may explain why it got the "Tom Cruise blockbuster" ad treatment. -Matt Patches

Mindy Kaling's Is Everyone Hanging Out Without Me? (And Other Concerns)
Alright, I'll admit this book isn't exactly a 2011 "sensation" for most people. You can't find it in those airport bookstores that sell the top 25 bestsellers and when I went to pick up a copy at Barnes and Noble, I had such a hard time finding it, I decided to spring for the eBook version instead (it's better for the environment anyway). The real reason this hilarious, thoughtful book finds its way onto this list is that while part of the reason we're doing this list is to let you reminisce over the wonderful little distractions of 2011, we're also helping you catch up on things you've missed. And if you missed Kaling's book, now's the time to fix that. Most famous for playing the incomprable Kelly Kapoor on The Office, comedian Mindy Kaling has slowly become something of an undergroud female icon. Why, you ask? Well, to put it simply, she gets it. I'm not usually a fan of using Twitter as a public record, but Kaling once tweeted something that stuck with me. She said, "It is so hard when your interests run girly and your temperament runs manly." And that, in a nutshell, is why Kaling and her book rule. She's completely admittedly girly – I mean, she's a girl and girls cry over things like cancelled dates and "You Can Call Me Al," right? But at the same time, she's not such a girl about it. There's an element of honesty, of taking these embarassing girl truths at face value and just laughing at them, accepting the simultaneous mundane reality, urgent importance and complete absurdity of what it means to be the type of girl who doesn't always say the right thing, or nab the mega babes, or do anything that can be deemed remotely cool (oh except getting a role and a writing job on a little sitcom called The Office, but who's counting that, Kaling doesn't understand one night stands and worries that she'll be a Jane Eyre attic lady forever like the rest of us secret dorks). Essentially, Kaling is the real life version of what Zooey Deschanel's New Girl purports to be; she gives the dorky, smart girls – who love silly things like smokey eye shadow and pretty, overpriced dresses just as much as the sleek, painfully cool women do – a hilarious voice and I applaud her for it. -Kelsea Stahler
Fight for Your Right (Revisited)
The thing I love most about "Fight for Your Right (Revisited)," the outlying comedy/musical short film starring Elijah Wood, Seth Rogen and Danny McBride as a dilapidated manifestation of the Beastie Boys, is how much I don't quite understand why it was made. Is it a tribute to the Beastie Boys? Is it a defamation of the Beastie Boys? Is it simply an exercise in creative filmmaking? Whatever the motivation, the outcome is brilliant: it's bizarre, it's uneven, it stars just about every contemporary comic actor you know and love. It's definitely something worth devoting a half-hour to. -Michael Arbeiter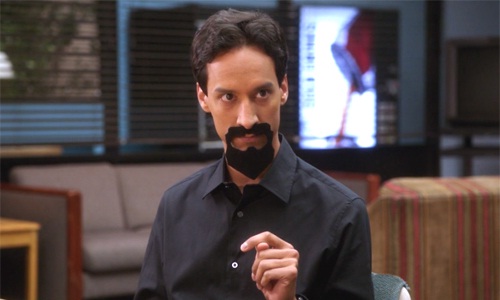 The #SixSeasonsandaMovie Save Community Movement
This one is inherently bittersweet—if Community wasn't suffering from low ratings and a shaky security of residence at NBC, the #SixSeasonsandaMovie movement wouldn't have been called for. But to see countless Community fans take to the Internet with their Abed-ism hash-tags, their Dark Timeline goatees, and various other expressions of their love for Greendale Community College was an inspiring triumph all its own for those of us who appreciate a good baggle. -Michael Arbeiter
Adele's "Someone Like You"
Who knew one song could evoke such raw emotions? Adele's lyrics seem to do just that time and time again. Unlike most artists who rely on auto-tune and visual aesthetics to help make a song memorable, Adele doesn't need any of those things. Her deep, soulful, powerhouse of a voice is enough to send chills up anyone's spine, especially when you're dealing with a song as heartbreaking and relatable as "Somone Like You." This song offers a look at the bitter realities of love and heartbreak -- and finding the strength to move on in the aftermath. Sure it's a little depressing, but what tragic love story isn't? It still doesn't stop us from curling up with a box of tissues and watching them every so often. Her songs emulate real-life emotions, which makes it easy to personally connect with -- seeing ourselves in her lyrical plots. It's no secret that Adele became a breakout performer this year and this song helped earn her a permanent place in the music industry. Plus, if your songs turn into an AMAZING mash-up on Glee, you know you've hit it big. -Kelly Schremph
The Super Bass Girls
Sophia Grace and Rosie skyrocketed to stardom after appearing on Ellen last October to perform the Nicki Minaj song, "Super Bass," in front of a live audience after gaining YouTube fame for their at-home performance of the song. Not only were they the most adorable little girls you've ever seen, but they were also extremely talented. Sophia Grace's voice is remarkable for such a young age, but what was even more impressive was how she managed to memorize the rather complex lyrics of Minaj's popular hit song -- a feat which even the most respected adults can't seem to accomplish. And Rosie is the epitome of cuteness with her shy little dance moves, helping to give Sophia Grace "more confidence" (say it with me: aww). Seriously, just try to watch these tutu-wearing, pink-obsessed ballerinas perform without breaking out into a smile. It's impossible to do and I'm so happy Ellen brought them to the front and center of our lives (and TV screens). Whenever you experience a bad day of work or just get into a mid-winter funk, just watch this clip and you'll be back to normal in no time. I promise! -Kelly Schremph
Honey Badger
Lots can be learned from studying biology and the biosphere and natural habitats and ecology and all the different eco systems. And what happens after we're done learning about all those things is we take all the knowledge we've acquired and generally try and put it to use, so we can make our own lives better! And this is why I love this video of the Honey Badger so much – through watching how the Honey Badger doesn't care if bees swarm around it and sting its face, WE learn how those kinds of outrageous incidents are survivable! I guess I'm trying to express how much I value the inspirational nature of this video. It's just – really life changing. -Hannah Lawrence
Flour Children
This video of a mother coming home to a house covered in flour is wonderful for a variety of reasons, but most obviously because of how shocked and paralyzed she is by the situation. She genuinely doesn't know what to do, and even though she's walking around the house with her video camera, her mind is GENUINELY at a complete standstill. -Hannah Lawrence