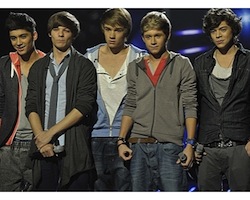 We know the boys from the pop band One Direction are from the U.K., but they really should have studied up on their American counterparts. Apparently they learned nothing from fellow teen heartthrob Justin Bieber and his relationship with Disney star Selena Gomez. He learned the hard way that fans don't like it when you date someone they don't approve of. And unfortunately for the sweeter-than-sweet Gomez — who received death threats after their relationship went public — there is no one they'd ever approve of. Unless of course it was them.
So it should have come as no surprise to One Direction's Harry Styles, 17 — who is no stranger to backlash after publicly dating a TV presenter 15 years older than him — that fans would be irate if his chosen cougar was older and married. British radio DJ Lucy Horobin sent teeny boppers into a tizzy after learning the two had a secret affair last year. And when teens are in a tizzy about something, they tweet.
When news broke, the 32-year-old's Twitter account was inundated with nasty messages from the boy band's young fans, calling her everything from "sick" to a "wh*re". Horobin — who is said to have gone back to her husband — had only one reply: "To clarify, I haven't said ANYTHING to any press, nor do I wish to. Thank you to those of you who have said kind words today. Xxx."
More:
One Direction's Zayn Malik Accused of 'Enticing Jihad' by Intolerant Blogger
One Direction Turns Down Invitation to White House