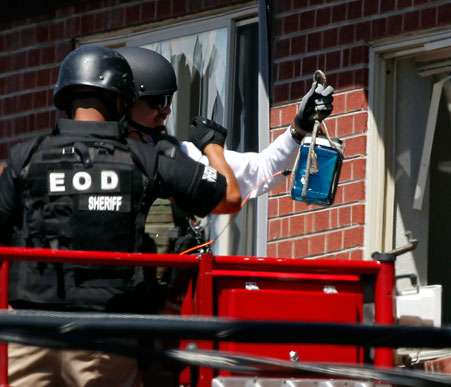 UPDATE: Colorado shooting suspect James Holmes is due in court Monday, July 23, at 9:30 a.m. MDT. He'll be present for a hearing where the charges of suspicion of first-degree murder will be read. 
On Sunday, Aurora, Colo., police chief Dan Oates told reporters that Holmes has "lawyered up," and has refused to speak to investigators. The alleged shooter is being held in solitary confinement at a detention facility as he awaits his court date.
Now, prosecutors are considering pursuing the death penalty. Arapahoe County District Attorney Carol Chambers told reporters today she is talking with victims and their family members about pursuing the punishment if he's convicted. 
ORIGINAL STORY: 
At about 2 PM MT, police in Aurora, Colo., updated the public about the investigation of James Holmes, the alleged shooter in Thursday night's murders during a midnight showing of
The Dark Knight Rises
. 
Holmes was arrested on Friday, and the local law enforcement began exploring his apartment, which was reportedly filled with "booby traps." 
On Saturday, police announced that they have successfully disarmed the most dangerous explosives in Holmes' apartment, according to 
The New York Times
. It's believed that Holmes had been receiving deliveries of explosive devices for about four months, suggesting months of "calculation and deliberation" — and that he attempted to rig his apartment with them to kill whomever would enter. 
Aurora Police Chief Dan Oates speculated that Holmes would have set up such a trap in case he was apprehended or killed at the movie theater; he proposes that the traps were meant to target officers of the law. The police are working to remove the remaining threats inside Holmes' apartment, and to conclude their investigation of the Aurora movie theater by Monday. FBI Agent Frank Yacone states that Holmes' apartment "was an extremely dangerous environment," prior to police involvement, and that the disarming of the explosives "went very, very well." Still, Yacone admits that "the threat has not been completely eliminated." The police are working to ensure that no further tragedies take place. The living quarters surrounding Holmes' have been evacuated, but residents will be allowed back into their homes on Sunday. [Photo Credit: David Zalubowski/AP Photo] More: