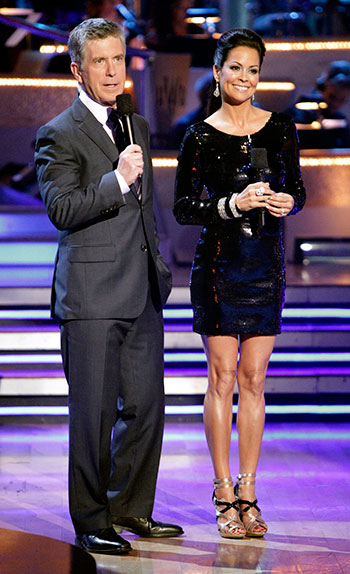 Who will win Dancing With the Stars All-Stars? 
Let's examine: Everyone on the just-announced cast already has a proven fan base. All in all, there are six past winners and three runners-up on the lineup — and the rest of the contestants are their season's most buzzed-about stars (hello, Bristol Palin!). 
We've already seen that athletes have a monopoly on wins, so Emmitt Smith, Apolo Ohno, and Helio Castroneves certainly seem to have an advantage right out of the gate. 
But don't forget how far controversial contestants make it (Bristol Palin came in third place in season 11). And audiences love a good underdog (season 12 runner-up Kirstie Alley surprised everyone with her dance skills and incredible weight loss story). 
The bigger question will be how the bombshells like Pamela Anderson fare. Will fans call in for a second serving of her shimmying?
So, tell us, who do you think will take home the coveted Mirrorball and bragging rights? Vote below!
<a href="http://polldaddy.com/poll/6424862/">Who will win Dancing With the Stars All-Stars?</a>
Dancing With the Stars Recap: Top Twelve Couples Prove Their Worth
DWTS Star William Levy's Sexual Battery Lawsuit Dismissed