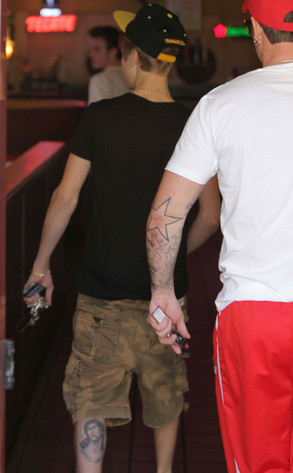 People learn to demonstrate their religious faith in many different ways. Some attend church, while others adorn themselves with biblical jewelry like wearing tiny crucifixes. But in Justin Bieber's case, he chooses to display his beliefs in the form of body art. In addition to his dove and the Hebrew scripture on his rib cage, the singer recently got himself inked with yet another religious image: a portrait of Jesus Christ's face, which can be found on the back of his left calf.
And while the new tattoo is anything but subtle, it's important to note that Bieber has never been shy when it comes to things like this. In fact, the teen heartthrob opened up to Billboard magazine just last November about his religious beliefs, saying, "I believe that Jesus died on a cross for my sins. He's the reason that I'm here." I guess this is the best way he could think of to demonstrate his unyielding faith. I probably would've opted for a less painful approach. I guess Bieber's just too badass for me.
Click on the picture for more photos of Justin Bieber!
Source: E!