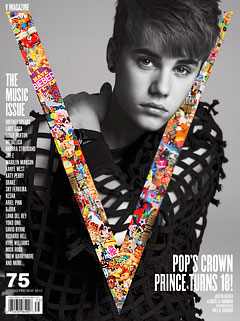 After his faux pas in last year's Rolling Stone interview (where he claimed abortion was "like killing a baby"), it seems Justin Bieber has learned (or has been ordered) to stay away from controversial topics. And let's not forget his little paternity test scandal as of late, which sent Bieber Fever fans into a real tizzy. So it's no surprise that nowadays he strives to be the poster child of innocence, especially when it comes to interviews.
In his recent interview with V magazine the 17-year-old singer explains that even though he's on the brink of adulthood, he's not about to change who he is or what he sings about. He says, "I'm not going to try to conform to what people want me to be or go out there and start partying, have people see me with alcohol. I want to do it at my own pace." Additionally, he tells the magazine, "I don't want to start singing about things like sex, drugs and swearing. I'm into love, and maybe I'll get more into making love when I'm older. But I want to be someone who is respected by everybody."
The pop star also talks about his career aspirations and how he hopes to someday be the best there is in the music business. He explains, "I want to be better than anybody who's ever done it. And in order to do that, I need to strive to be the best, be good to people and treat people with respect, and work as hard as I can. Because for me, I work so hard and this consumes my life -- it's not worth it if I'm not the best."
Basically, Bieber wants us to focus on his squeaky clean image and the fact that he wants to be the best singer (and person) the world has ever seen. Well played, Bieber, but no Hollywood star is completely immune to scandal, especially when they're that popular. We'll just have to wait and see what sort of tabloid trouble finds its way to Bieber's doorstep in 2012, but in the meantime we can look forward to plenty more teeny-bopper songs that will undoubtedly get stuck in our heads. Awesome.
Click on the image below for more photos of Justin Bieber.

Source: V Magazine, Us, Rolling Stone