There's no denying Reese Witherspoon is utterly adorable. She's always smiling and joking around, which makes her seem like a genuinely down-to-earth person. That's a pretty rare quality to find, especially in a Hollywood star as famous as she is. But if you need any more convincing on the matter, the actress's recent interview with UK Glamour pretty much proves it. Not only is Reese not interested in plastic surgery, but she doesn't allow herself to fret about her body image.
When asked about her thoughts with regard to plastic surgery, the This Means War star told the magazine, "I'm not for it. I'm not against it. I have plenty of friends who do stuff and if it makes you feel good, great … but I don't think it's the fix for some sort of unease that you're having about who you are as a human being. I don't think I need plastic surgery at this point: Can we just go day-by-day on that one?" Even though she doesn't find the appeal in altering one's appearance to look younger, she remains non-judgmental to those who do.
Additionally, Reese went on to state how, over time, she's also become less and less concerned about her body image, explaining, "I don't worry about it. I have the body I earned: I had two kids and I'm still strong and healthy. And you start to have a different respect for your body the older you get. Instead of tearing yourself apart all the time, you start to go 'Oh wow.'" Definitely a positive outlook to have whether you're famous or not.
And while Reese is just like any other woman who loves to shop, she tries her best to commit to a set budget and not over-indulge in material possessions. She states, "I have this fixation about this black leather The Row purse, but it's so prohibitively expensive, I will not allow myself to buy it. I literally go to the store to visit it. Too much money – it feels decadent. I can't wrap my brain around it. If I bought it, I'd only feel upset about it and take it back." This might just make her the first frugal famous person in celeb history. All the more reason to love her!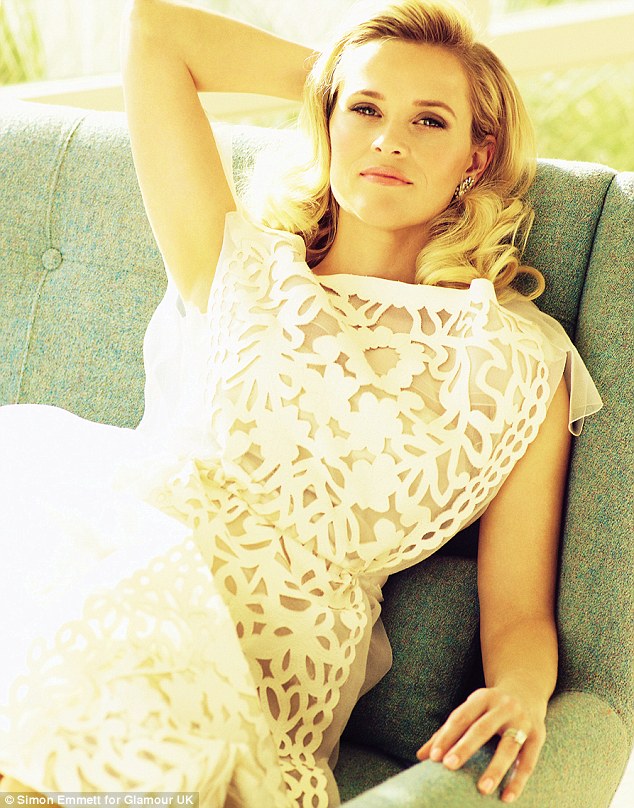 Click on the image for more photos of Reese Witherspoon. Source:
The Mail