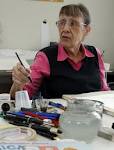 Earlier today, we all learned of the sad news that Berenstain Bears co-creator Jan Berenstain had passed away at the age of 88 -- but it wasn't without strong sentiments from an editor who worked closely with Berenstain.
David Linker, Executive Editor at HarperCollins Children's Books as well as editor of the beloved Berenstain Bears series, tells Hollywood.com: "Jan was one of the sweetest, most generous people you could ever meet. If you were in her house, you were family. She told the best stories and always had a kind word to say. People say that she was Mama Bear, and she really was. It was impossible to not be charmed by her."
"With her husband Stan, Jan created one of the longest running, best-selling children's book series ever," says Linker. "The Berenstain Bears have brought smiles to millions of readers around the world for more than 50 years. The world is a sadder place without her charm and grace and wonderful sense of humor."
HarperCollins, publisher of the Berenstain series, was able to shed further light on the life and passing of Berenstain:
"Writer and illustrator Jan Berenstain passed away on February 24, 2012 in Solebury, Pennsylvania, following a stroke. She was 88 years old.
With her husband, Stan, Jan created the Berenstain Bears series, which has charmed and delighted children and parents for 50 years. With more than 300 books in print and over 250 million copies sold, the Berenstain Bears series is arguably the best-selling children's book series of all-time. The books have spawned television shows, a children's musical, dolls, toys, amusement park rides, ebooks and apps, and even a video game.
In 2012, in celebration of the 50th anniversary of the Berenstain Bears series, HarperCollins Children's Books will release 19 new titles, including new chapter book ebooks.
It all started back in 1941, when Stan Berenstain met Janice Grant while both were attending the Philadelphia Museum School of Industrial Arts. They married in 1946, when Stan returned home from his service in World War II. They started a family of their own soon after. Their eldest son, Leo, was born in 1948 and Mike came along in 1951. Since both boys were huge fans of Dr. Seuss, Stan and Jan decided to try their hand at creating a picture book themselves. From this inspiration came The Big Honey Hunt, which Dr. Seuss himself edited and helped publish in 1962. Since then, the Bear family—Mama, Papa, Brother, and Sister—has grown to include baby Honey along with countless pets, friends, and adventures. But one thing has always remained the same: The stories they've told have always touched on universal themes and made children smile.
Jan is survived by her two sons and four grandchildren. Jan's sons, Mike and Leo Berenstain, will continue the legacy by creating new stories and new books."