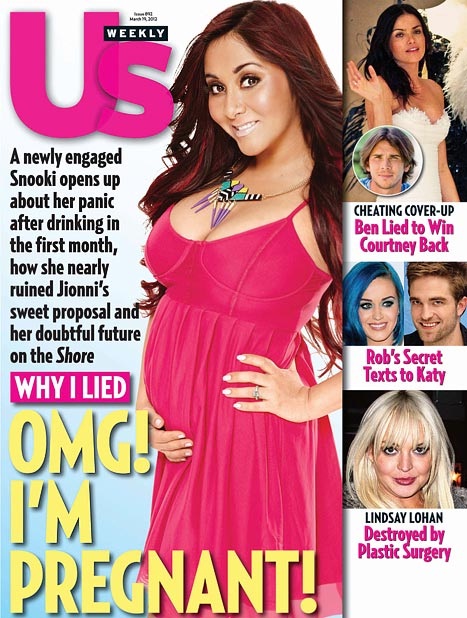 This past month of Snooki-centric news has been an emotional rollercoaster. First, America found out she might be pregnant. Then, the rumors were denied. But weeks later, signs once again began to allude to the Jersey Shore star being with child. And now, confirmation is in: Snooki herself has revealed to Us Weekly that she is not only pregnant, but also engaged to the father of the child, her longtime boyfriend Jionni LaValle.
So it's official. Snooki, fifteen weeks into her pregnancy, will indeed be a mother. It's not exactly the sort of image she has purveyed for herself on her years of Jersey Shore. But despite her highly publicized aversion to sobriety, Snooki has voiced confidence in her ability to carry out the responsibilities of parenthood, and in her understanding of the severity of the circumstances. The reality show star told Us Weekly, "I have different priorities now. I don't care what anybody else thinks. As long as I know I'm ready and he's ready."
Snooki and fiancée Jianni are unconcerned with the public's opinion of their capabilities, and have enough faith in themselves. Jionni stated to Us Weekly, "We are not going to screw this up." However, it'll be a process. Snooki mentioned that she and Jionni discovered the news of her pregnancy "right after New Year's," following an unsurprisingly wild party, with plenty of alcohol consumption. Snooki admits that she "was worried" upon her realization: "'S***, I've been drinking!'...It was New Year's Eve and we were in Vegas, so I did go crazy."