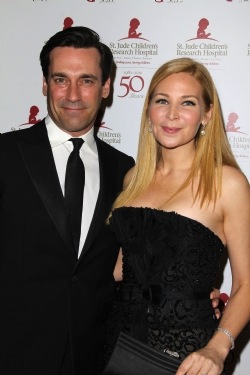 If you can't wait to see Jon Hamm pick up the martini glass again in Mad Men's March 25 premiere, you can catch the actor this weekend in his latest film project. Friends with Kids was written and directed by Jennifer Westfeldt, Hamm's girlfriend of 12 years, and he stars as a man whose friends decide to have a baby even though they aren't romantically involved.
While the couple has had babies on the brain recently, they aren't quite ready to start a family of their own -- though, Hamm would be more than happy to snatch one of your children for the day. Hamm told Extra, "I want to have other people's kids -- I want to borrow other people's kids for the weekend, not in a creepy way, just hang out and tell stories... give 'em back." He added, "I'm a fun uncle! A funcle!"
While the mothers of America would certainly love to see Hollywood's most dapper actor at the local playground, we'd need to see some references before letting him babysit. The only parenting skills he's picked up from Mad Men involve disappearing during birthday parties, flirting with elementary school teachers, and teaching kids to mix him an Old Fashioned.
Source: Extra