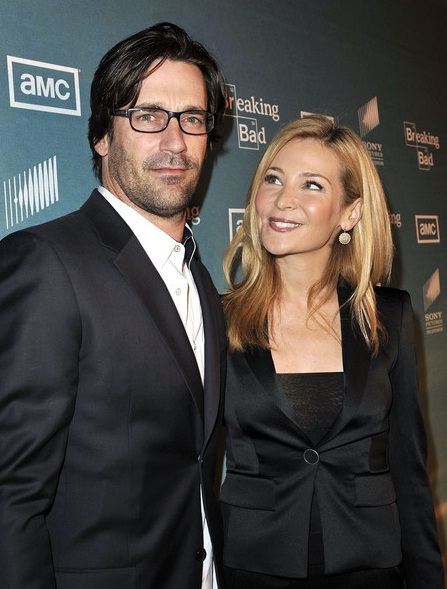 Don Draper might not be the pinnacle of "good boyfriend material," but his portrayer Jon Hamm has been in a happy relationship for 15 years—and with a woman you probably know: Jennifer Westfeldt, the actress, writer and director behind the upcoming comedy film Friends with Kids, also starring Hamm, Kristen Wiig, and Adam Scott as the man who decides to enter the realm of parenthood with platonic friend Westfeldt.
Westfeldt is an interesting and accomplished artist in many fields, and a model individual for respectable celebrity personal life. And although you likely know her work, there might be a few things you did not know about Westfeldt…
She Directs, Writes, Produces and Stars in her Movies
Friends with Kids is Westfeldt's directorial debut, but it is hardly the first time she has had multiple roles on the set of a film. Westfelt wrote, produced and starred in the 2001's Kissing Jessica Stein and 2006's Ira and Abby, both films about chaotic, misappropriated relationships that were rushed into on a whim—a theme that continues through Friends with Kids. It's a wonder that a woman with such a passion for erratic, dysfunctional relationships has been in a happy and healthy one for 15 years.
She Saved Jessica Stein from Oblivion, Making the Movie Herself
Production on Kissing Jessica Stein wasn't going well—the studio was hard on the offbeat project, eventually rendering it something that would likely never find form. But after the studio lost interest, Westfeltd and her partner Heather Juergensen bought back the rights to the film—which likely took a good deal of negotiation—and funded the project independently from intake on shares. As a result, we got the smart, original rom-com that launched Westfeldt's multi-hyphenate career.
She's Not Just a Movie Star: She Does TV and Theater, Too
One of Westfeldt's earliest jobs was on the ABC sitcom Two Guys, a Girl and a Pizza Place, opposite Ryan Reynolds and Traylor Howard. Over the course of her career, Westfeldt has starred in several Broadway and off-Broadway productions, including Wonderful Town, for which she earned a Tony nomination for her role as Eileen.
She and Hamm Live Like Normal People (Which, as Celebrities, They Are Not)
Westfeldt and Hamm live together in a two-bedroom apartment in New York City—granted, Manhattan apartments are on the expensive side, but there is nothing overtly ostentatious about their home or the way they lead their personal lives. They deliberate about the decision to have children, make compromises for the relationship, and make a point to never go more than two weeks without seeing each other, despite their demanding work schedules.
She Is Descended from Swedish Nobility
Granted, this doesn't have anything to do with her career or personal life, but it's still a pretty interesting bit of information. The writer/actress comes from the noble family of Wästfelt, one of many lineages introduced at the Swedish House of Nobility and listed in the country's Book of Peerage. Perhaps we might be in for a romantic comedy/drama about a noble Swede who hastily takes up with a commoner, to chaotic results?
With the new role of director on Westfeldt's plate, it is easy to assume that her career is still on the rise. Might this be the first of many directorial projects the writer/actress takes on? Could we be seeing more of her signature brand of romance and comedy on the big screen? Or maybe something different: a comedy about a long lasting relationship between two lauded celebrities. She's obviously done the research.
Click the above photo to see more images of Jennifer Westfeldt and Jon Hamm.