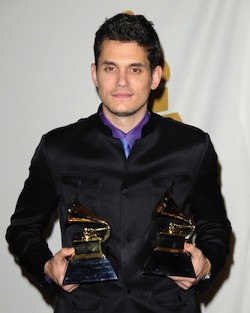 John Mayer thought he took care of his throat condition when he underwent surgery to remove a granuloma in October, but unfortunately the tumor-like mass is back. Today Mayer revealed that the problem is so bad that he has to cancel his entire 21-stop tour.
The singer wrote on his Tumblr, "During rehearsal on Tuesday, it came to mind that I should see my throat doctor because something didn't feel/sound right. I went in for a visit on Wednesday and a scope of my vocal cords revealed that the granuloma has grown back where it had mostly healed. This is bad news. Because of this, I have no choice but to take an indefinite break from live performing." In the coming weeks Mayer will have more surgery, followed by a another period of doctor-imposed silence. "Though there will be a day when all of this will be behind me, it will sideline me for a longer period of time than I care to have you count down," said Mayer.
Luckily for fans, Mayer's new album Born and Raised will still be released on May 22 as scheduled. Plus, he's using the break to get a head start on his next project. "I feel really vibrant as a writer at the moment and there's no reason not to begin the next album project in the time I would have been touring," said Mayer.
Mayer apologized profusely to his fans, saying, "I'm pretty emotionally burnt out at the moment, but please know how hard I tried to resolve this and how disappointed I am that I can't perform this record yet. I'm completely bummed, especially for all of you who started making plans to see a show. Nothing feels worse than having to break the stage down before the performance, and I mean nothing." Hopefully this time he'll get the condition fixed for good, and eventually make a triumphant Adele-like return to performing.
Source: Us