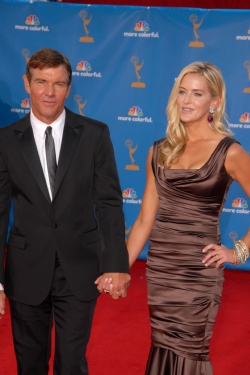 Dennis Quaid's wife, Kimberly Buffington-Quaid, has filed for divorce after eight years of marriage. Papers were filed last week in Texas under "B.K. v W.D," the couple's initials, and today the star's rep said, "We can confirm that Kimberly Quaid has filed for divorce. Contrary to what has been reported, a satisfactory settlement is being worked out for both parties."
The couple have four-year-old twins, Thomas and Zoe, and a temporary shared custody order has been put into place. According to the documents, for the time being Kimberly will keep their main home, and Dennis will move into their condo.
While the papers cite "irreconcilable differences" as the reason for their split, there may be more to the story. Quaid was accused of cheating just last month. Sascha Bajin, Serena William's practice tennis partner, Tweeted on Valentine's Day that Quaid stole his date after a party thrown at Williams' L.A. mansion. Quaid's rep denied the account, saying, "sounds like someone's imagination is getting away from them. Dennis was with friends that night." Whatever the reason for their split, the actor is no stranger to marital trouble. His marriages to actresses P.J. Soles and Meg Ryan both ended in divorce.
Source: E!, N.Y. Daily News