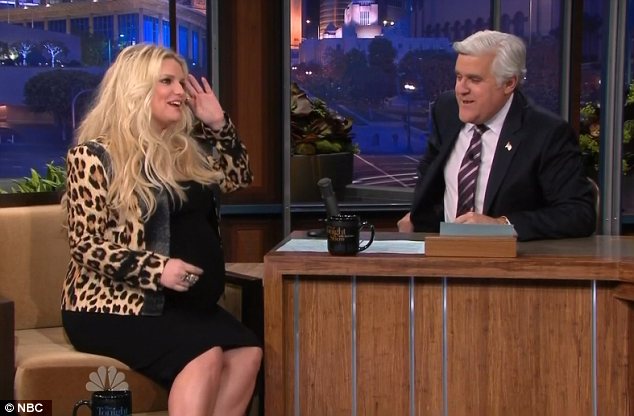 Jessica Simpson is sporting one of the biggest baby bumps in Hollywood, which has some people wondering if she's got an extra bun in that oven. But the singer quickly put those rumors to rest during an appearance on The Tonight Show March 12, assuring Jay Leno and the audience that there's only one baby on board. "No, it's not twins. I know it looks like it," Simpson joked.
But Simpson wasn't going to let a little extra weight get in the way of her fashion sense and managed to grace the stage in six-inch heels. Simpson remarked, "It's a lot of weight to carry on six inches!"
However, just like any other mom-to-be, the star is incredibly nervous about giving birth. Simpson, who is expecting a baby girl with fiance Eric Johnson this Spring, told Leno, "Labor is really going to hurt. I have so much respect for my mom and all the women across the world."
The pregnant star also explained why she and her fiance have yet to tie the knot, saying, "I want him to be my husband so bad. I do still want to wear the pretty gown, so I have to wait." But Simpson then pointed to her belly and revealed on major plus about waiting for the big day: "Now she'll just be in the wedding."
For more coverage on Jessica Simpson's appearance on The Tonight Show, check out the video clips below: