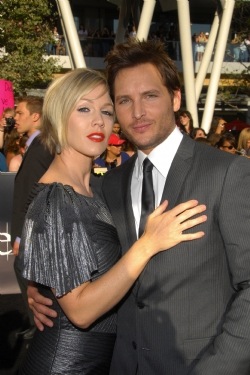 It's tough to have the news of your split make headlines around the globe, but as Jennie Garth and Peter Facinelli have learned, it's even worse when those headlines aren't even true. Though the 90210 actress and the Twilight star announced yesterday that they've decided to divorce, they joined forces today to deny that infidelity was the root of their problems.
"There are rumors out there which are completely untrue and hurtful to our family," the actors told People. "We just want to make it very clear – there are no third parties involved." It's safe to assume they were referring to a story that surfaced on Radar.com yesterday, which claims that Facinelli had a "torrid affair" with a Canadian woman while filming Breaking Dawn.
It makes sense that the pair, who have been married for 11 years, would want to clear up any nasty stories about their family. Together they have three girls, Luca, 14, Lola, 9, and Fiona, 5. They said when announcing their split that though their marriage is over, "we both share the same deep love and devotion to our children."