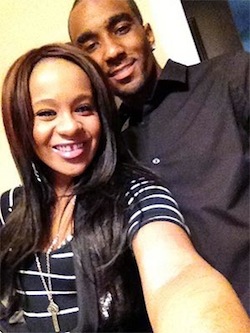 After a major tragedy, it's natural for family members to turn to each other for comfort. However, some are saying that following Whitney Houston's death, her 19-year-old daughter Bobbi Kristina Brown has gotten a little too close to Nick Gordon, the 22-year-old referred to as her "adopted brother." In the past week the pair were spotted kissing, hugging, and holding hands at various locations in Atlanta.
Bobbi Kristina and Nick aren't actually related, so there's nothing illegal going on. Whitney took Nick in about a decade ago, and while he was never formally adopted, he's been living with her family ever since. If a romance was budding between Nick and Bobbi Kristina during that time, it seems it wasn't discussed openly when Whitney was alive. "I have always felt there was some interest beyond a platonic interest in each other," a close family friend told People. "It appears to me that Nippy (Houston's nickname) either didn't see it or didn't want to address it."
In light of recent media attention, the couple has become defensive of their relationship, whatever it may be. Nick Tweeted a photo of himself with Bobbi Kristina and wrote, "We're just close – just going through her mom's passing and grieving together ... Yea we got a little closer and what!!!" He added, "All the haters that dont know us or th real story can't un follow me."
Source: People