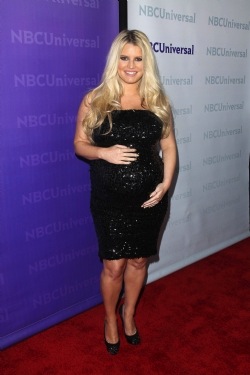 Family and friends gathered in Los Angeles on Sunday afternoon to celebrate the impending arrival of Jessica Simpson's baby girl. The mom-to-be had her hair in soft braids and wore a light blue dress that showcased her belly (with the baby due next month, it's pretty much impossible to hide).
Outside the party, Jessica greeted Jessica Alba and her sister Ashlee, who brought her son Bronx. An eyewitness said, "Jessica looked pretty and very happy," and a friend added, "She's so excited to be a mom. She can't wait to meet her little girl."
There's no word yet on what gifts she's received, but since Jess loves to share, we expect she'll be weighing in on her favorite breast pump and bottle warmer pretty soon.
Source: People