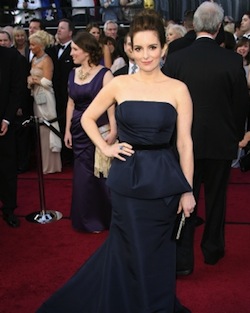 It's no secret that the character Liz Lemon is based very heavily on Tina Fey herself, so it's no surprise that the 30 Rock actress shares Liz's love of comfy, hassle-free fashion. "It's weird," Fey tells People, "I almost don't have time during the year to wear clothes. I sort of roll out of bed into some pair of jeans and the top of my pajamas, come [to work] and then put on clothes. Then at the end of the day I put the pajama top back on and go home." She jokes, "What I wear on the show is what I then steal and wear at home for a long time."
So how does Liz manage to change out of the clothes she slept in before heading to TGS? The character has help from an unlikely fashion stylist: Alec Baldwin. "I don't think he would ever come up to me and be like, 'You're pretty,'" says Fey. "But I know that he does not like it when my character looks disgusting. He mostly just tries to prevent me from looking terrible. He's got my back in that way."
Fey says her 6-year-old daughter Alice hasn't inherited her sartorial sensibilities. "She's not into princesses anymore," Fey says. "One day she said, 'Mom, I'm not into that. I'm into fashion.'" Perhaps Alice should take Baldwin on her next back-to-school shopping trip instead of her mom.
[People]