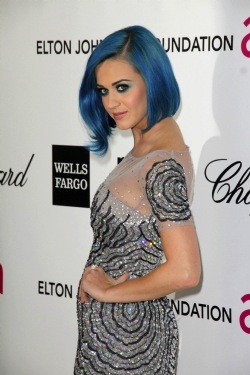 If you're planning to misconstrue Katy Perry's words, be advised that she won't just let it slide. In fact, she'll hit you back with some more words that aren't exactly printable.
While discussing her upcoming collaboration with BFF Rihanna, Perry told BBC Radio 1, "You know that Eurthymics song with Aretha Franklin, Annie Lennox, 'Sisters Are Doin' It For Themselves'? That's like the kind of song that I'd want to do instead of, like, 'Hips Don't Lie,' which was still a great song by Shakira and Beyonce. I mean, not 'Hips Don't Lie,' what's that duet? 'Beautiful Liar.'" Though Perry went out of her way not to insult her fellow pop stars, naturally multiple sources reported that she and Beyonce are feuding.
Apparently, this made Perry furious, because last night she unleashed some tough talk on Twitter. "F--k all y'all (press) dat thinks I dissed anyone, puhlez, u havin a slow news day or what?!" she wrote. "Get a life, cuz it's not mine! #hoodratcominout." She added, "If ya ears are filled with wax it's time to get a cleanse boo...Anywayz... (steps off of box)."
For those interested in a real celebrity feud, look no further than Jon Hamm and Kim Kardashian's never-ending war of words. [E!]