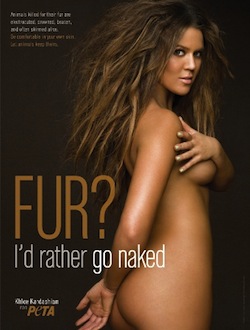 No one is in favor of torturing animals (we hope), but in its zeal to protect all creatures, PETA has a tendency to stir up controversy. Most recently, the organization came under fire for pledging to defend the so-called activist who dumped flour on Kim Kardashian last week. The reality star says she might sue — and her sister Khloe, who's posed for PETA's "I'd rather go nude" campaign, announced she's withdrawing her support from the group. 
"I just received word that the woman responsible has very close ties to PETA, despite PETA publicly stating otherwise," Khloe explained on her website. "Not only has PETA lied to the public, but they have proved that they support this kind of behavior. I've been a vocal supporter of PETA for a long time but I have also been very vocal about anti-bullying, so this was a huge disappointment for me." PETA responded civilly to Khloe. "We appreciate that Khloe will remain on the animals' side by not wearing fur — that's what counts," PETA said. "If one of our volunteers is responsible, it doesn't alter the fact that no animal deserves to be electrocuted, shot, or poisoned for a bit of fur clothing. Khloe is just defending her sister, and we know she has a good heart, so we wish her well. We just wish she also had more influence on her sister." The organization often isn't so understanding when celebrities disagree with its positions on animal rights. That's a large part of the reason that we rarely hear from stars who don't back PETA. (Also, declaring your disdain for lovable furry creatures isn't a great PR move.) However, Khloe isn't alone. Here's a look at the stars who've stood up to PETA: In 2008
Kid Rock
defended his love of fur, and attacked PETA for hurling household items to get its message across. "To throw paint on someone is just wrong. [Animal rights activists] do it to little Hollywood actresses who can't defend themselves," he told the U.K.'s
Daily Record
. "I'm willing the animal rights protesters to chuck red paint on me. My biggest extravagance is fur coats — I've got every kind of animal in my wardrobe."
Dita Von Teese
has appeared in PETA ads urging people to spay and neuter their pets, so many were surprised to see that she still wears fur. She explained the she refuses to give up her vintage pieces. "PETA's totally aware of me," she said. "I'm not working with PETA to tell people to be vegetarians or to stop wearing fur. I am there to strictly speak about spaying and neutering your pets." 
"She said she has some vintage furs she wears occasionally," PETA responded. "PETA often works with a celebrity on an issue they feel comfortable supporting, whether it's supporting spaying and neutering, or speaking out against products that are tested on animals. So they may not be an animal rights activist, but their contribution to any of our campaigns is appreciated." In 2010,
Kelly Bensimon
of
The
Real Housewives of New York
City
didn't get off so easy when she declared in an interview, "It's amazing to have an organization like PETA, but I've always been a great fur wearer ... Do I wear fur? Yes. Do I support the abuse of animals? Absolutely not." Bensimon earned herself some gibes from PETA-supporter
Chelsea Handler
, who said, "You think you're a great fur wearer? You know who wears it better? The innocent animal it came from. This is not a smart move. You just taunted PETA on national television while wearing an unattractive fur vest." When criticized by PETA for wearing fur in 2012,
Kanye West
responded with one of his trademark all-caps online rants (translated here into a virtual inside voice): "At the end of the day, who are we hurting? Oh, 'the new black'?" he wrote. "Since
Barack [Obama]
is President blacks don't like fur coats, red leather and fried chicken any more? When you truly understand cultural settings, boundaries, and our modern day caste systems, then you can feel the glory and pain from the days of kings in Africa to the new kings of the media. Remember clothing is a choice. We were born naked! Fresh is an opinion, love is objective, taste is selective, and expression is my favorite elective. No more politics or apologies!" Finally
Courtney Love
wins the award for the most crass anti-PETA tirade. "Yep, I'm a fur whore. If it's 100 years old I'm f**king into it. Sorry PETA. I've been very, very good for a very, very long time, and this ermine is ancient and tattered and feels like it belonged to a Queen," she wrote on her MySpace in 2008. "I know, I know. Maybe I'll just stare at it, but f**k off if I wear it, I KNOW what I'm doing." That does provide a bit of insight into what could drive someone to turn to throwing things at stars rather than having a rational conversation. [
Radar
,
SPIN
,
Entertainment Wise
,
Digital Spy
,
HollyScoop
]