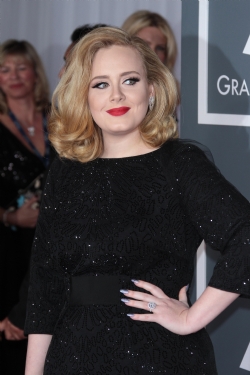 Remember when Adele said she'll be taking a five year break from making music? Thankfully, we won't have to wait that long — or even until 2013. The Grammy winner tells French radio network NRJ that she'll have, a "new song probably coming out at the end of the year."
However, Adele adds that this the song won't be part of a full album. "I have to write another record, you know," she says. "If I didn't write my own songs, I'd be out next week with a new album. But because I write my own songs, I have to take time and live a little bit. There was a good two years between my first and second albums, so it'll be the same this time."
So why would Adele be putting out a single? Well, rumor has it (ahem) that she'll be performing the theme to the next James Bond film, Skyfall. The speculation started in September when Adele said on the Jonathan Ross Show that she'd be in the studio recording "a theme," adding, "Wow, that's really giving something away." Barbara Broccoli, the film's producer, made a half-hearted denial, saying, "We've been considering several people but we haven't got anyone to announce at this stage." However, the timing is suspicious since Skyfall will be released on November 9, 2011.
As far as we're concerned, that's reason enough to start speculating on song titles. "Rolling in the Machine Gun Fire"? "Chasing SPECTRE"? "Set Fire to the Underground Lair? The possibilities are endless! [Rolling Stone, Metro UK]