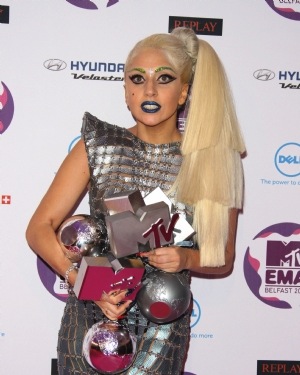 Lady Gaga is surrounded in controversy once again, but this time she's dealing with a far more serious issue than whether raw meat has a place in the fashion world. Gaga is under attack from anti-eating disorder groups over a tweet from Tuesday that read, "Just killed back to back spin classes. Eating a salad dreaming of a cheeseburger #PopSingersDontEat #IWasBornThisWay"
The comment sparked an immediate backlash from Gaga's "Little Monsters," with fans responding with messages like, "Why would you even promote a message like that? Disgusting that you'd joke about such a serious illness." Later the National Eating Disorder Association responded on Twitter, "Huh? This is the same person who recently implored girls to stop dieting?"
Yes, it is. During a conference just two months ago, Gaga admitted she was bulimic in high school and preached against eating disorders. "The dieting wars have got to stop," she said. "Everyone just knock it off. Because at the end of the day, it's affecting kids your age — and it's making girls sick."
The singer actually has a long history of contradicting herself when discussing body image issues. Despite her message of acceptance, during the conference, Gaga admitted that she allows her image to be distorted. "Every video I'm in, every magazine cover, they stretch you — they make you perfect," she said. "It's not real life."
She's made the "pop stars should not eat" remark in the past, and described a weight loss method called the "drunk diet." "I live my life as I want to, creatively," she said. "I like to drink whiskey and stuff while I am working. But the deal is I've got to work out every day, and I work out hung over if I am hung over." While that sounds more appealing than eating more fruits and vegetables, nutritionists probably don't consider whiskey the cornerstone of a healthy diet.
In addition to being hypocritical, Gaga's comments can be interpreted as reckless, considering that she's encouraged droves of young people to follow her example. She's put herself on a pedestal as "Mother Monster," and as a result, even her quips carry a lot of weight (no pun intended).
On the other hand, Gaga may be helping her fans by showing that she hasn't entirely come to terms with her weight issues. Many starlets act like they eat whatever they want and magically remain thin, making the rest of us feel like freaks because we're incapable of inhaling hamburgers every day and staying in size 00 jeans. At least Gaga is honest with her fans about what it takes to achieve her look: Lots of dieting, working out, and photo manipulation.
Despite what her fans may think, Gaga is far from perfect — and her remarks reflect society's mixed messages on weight and appearance. This latest incident just proves how difficult it is to internalize what Ashley Judd has been preaching about standing up against the objectification of women and girls. While intellectually, Gaga sees how wrong it is for girls to keep starving themselves to live up to an impossible ideal, it's hard to totally abandon that mindset — particularly when you're a pop star who's paid millions to appear on magazine covers and perform in skimpy outfits. Ideally, Gaga would focus on being healthy with her words and her actions, but even Mother Monster makes mistakes.
[ABC News]
More:
The Daily Shuffle: Lady Gaga Admits To Struggling With Bulimia in High School
Lady Gaga Is Launching Her Own Social Network
Ashley Judd Blames the 'Objectification of Women' for Puffy Face Remarks