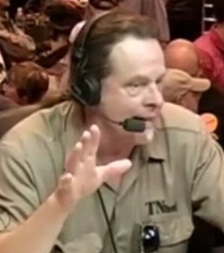 UPDATE: Ted Nugent has backed up his NRA statements with even more controversial remarks during an appearance on politically conservative radio host Dana Loesch's show on Tuesday. "I'm a black Jew at a Nazi-Klan rally," Nugent said. "And there are some power-abusing, corrupt monsters in our federal government that despise me because I have the audacity to speak the truth." The comment was made in response to the attention the Secret Service has given to Nugent after his comments at the NRA convention.
According to E! Online, a spokesperson for the Secret Service has stated, "We are aware of the incident, and we are conducting appropriate follow-up," in regards to Nugent's NRA statements.
EARLIER:In the latest Ted Nugent news, the rock musician has gone on record to vocalize his animosity for President Barack Obama and his administration. On Saturday, April 14, Nugent appeared at a St. Louis convention for the National Rifle Association, where he delivered a speech supporting the election of Mitt Romney and dissing the reelection of Obama.
Nugent rallied his fellow NRA attendees to spread the message of voting for Romney. At one point in his speech, the musician declared, "If Barack Obama becomes the president in November again, I will either be dead or in jail by this time next year" — and admonished the present government for "wiping its ass with the constitution."
You can watch Nugent's speech in the video below.
More:
George Clooney & Red Hot Chili Peppers Back President Obama
President Obama: Kanye West Is a Talented Jackass