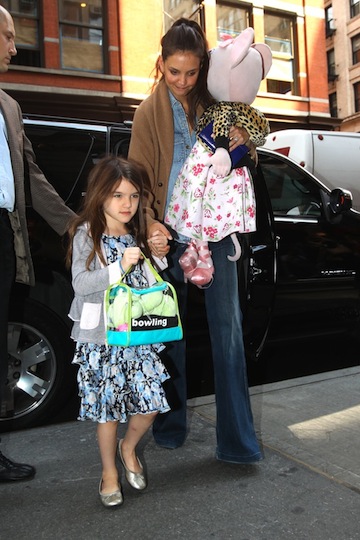 What do you get the girl who has everything? Designer high heels, purses, party dresses, privacy (just kidding!)... Suri Cruise has it all. Still, Tom Cruise and Katie Holmes' daughter turns six years old today, so her A-list parents will have to get creative. What could one gift Suri on her big day? Here are some ideas — though they'd need to stock up on lots of gift wrap.
1. A Small Country
Suri may already be the ruler of the younger generation of Hollywood's elite families — but she has yet to add a real title to her name. They say that anything can be bought for a price, so why don't Cruise and Holmes charge a small country to their credit cards for their little girl? Welcome to Suri-Land: Live (Not For) Free and Die Over the Fact that a Child Has a Ferragamo Purse.
2. Crown Jewels Suri already has the ballgowns and Cinderella slippers. (And we
know
 she wouldn't be happy with a pumpkin.) Now all she needs are the Crown Jewels to accessorize her ever-changing outfits. So she's not only Tom's little princess.  3. Her Own Star No, we're not talking about Ursa Major. (Though Tom probably knows
some folks
that could make that happen.) At six, Suri is one of the few A-list toddlers in Hollywood. (Shiloh Jolit-Pitt leads the Brangelina six-pack for a close second.) But Suri lacks the one necessary asset to make her a true Hollywood star — a star on the Hollywood Walk of Fame. Her dad already has one, and her mom is sure to get one soon (well, if Dawson's Creek ever enjoys a movie
reunion
). But a frighteningly runway-ready walk doesn't quite qualify a young celebrity for a star. Still, she should get one anyway... just for wearing heels better than we ever will. 4. The House of Suri Gabrielle "Coco" Bonheur Chanel did it. So did Christian Dior, Gianni Versace, and Giorgio Armani. So why not Suri Cruise? The House of Suri sure does have a nice ring to it. Of course, there is a problem: It is difficult for a six-year-old to launch a fashion business. Then again, look at Mary-Kate and Ashley Olsen's mini-empire and eventual Elizabeth and James line. The idea that we might be able to (never in our lives) afford a Suri-designed dress for a child more focused on banging a pot with a spoon than her wardrobe? Have mercy!
5. A Free Stress Test You would need one too if you spent your days hiding under blankets to avoid the paparazzi. Maybe it's time for Suri to go a vacation. Tom, fire up your private jet! 6. The Suri Song If Kim Kardashian and Paris Hilton have released singles without any discernible talent, why can't Suri? For her song, let's try a simple remix of J.Lo's "Louboutins" combined with the Barney theme song. If the beats are fast enough, maybe Willow Smith can whip her hair back and forth in the music video. More:
Suri Cruise Eats Fancy French Food with Stuffed Animals
Suri Cruise Name Most Influential Child Celebrity