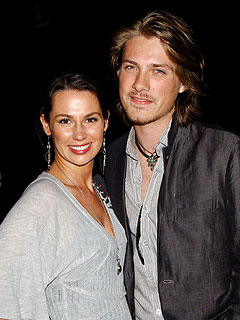 Here's something that will make you feel pretty old. Taylor Hanson, as in one-third of the popular '90s band Hanson, is expecting fifth child later this year with his wife Natalie, 28, their reps confirm to People magazine. But the craziest part of this is that Hanson is only 29 years old. Seriously, how is this possible?
"Natalie and I are so anxious to meet our fifth mini-Hanson," the Hanson brother says. "As are the four siblings at home who are counting the days to the arrival." Yes, the musician certainly seems to want house full of kids. The new baby will join older siblings Ezra, 9; Penelope, 6; River, 5; and Viggo, 3.
And that's not even mentioning Isaac and Zac Hanson's children, who both have two kids each. That's nine kids between all three brothers. There really is something to be said for a musician's libido. MMMBop!
The Hanson brothers are currently in the middle of an international tour to promote their album Shout It Out, which debuted at no. 2 on the Billboard Independent chart. But hopefully this daddy of four (soon to be five) will be able to take a break from work and give his wife a hand once their newest bundle of joy arrives — lord knows she's going to need it.
More:
'X Factor' Winners On 'Today': The Return of Boy Band Mania?
[People]